Central African Republic Ex-Premier Leads Presidential Vote
by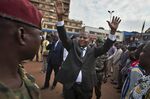 Former Central African Republic Prime Minister Faustin-Archange Touadera leads the race for president in the diamond-producing country with about 40 percent of votes counted, the electoral authority said.
Touadera received about 146,703 votes, while his closest rival, former Premier Anicet-Georges Dologuele, has 109,305, according to results published at the authority's office in the capital, Bangui, on Monday.
Fifteen other candidates want the vote count suspended immediately because of irregularities on election day, Theophile Sonny Cole, a presidential candidate and the spokesman of the group, told reporters on Tuesday. They may go to the constitutional court to demand an annulment of the vote if a political solution isn't found, Sonny Cole said.
The deadline for the announcement of the final results is Jan. 10, according to the electoral authority.
Central African Republic has been gripped by lawlessness since mainly Muslim rebel militias known as Seleka overthrew the government in March 2013, sparking reprisals by predominantly Christian fighters. The conflict has forced almost a million people to flee their homes, with more than half seeking shelter in neighboring countries, according to the United Nations.

The Central African Republic was the world's 10th-biggest diamond producer by value in 2012, according to the U.S. Geological Survey. Trade in the country's precious stones was banned a year later after the Kimberley Process, which seeks to halt the sale of gems from war zones, said there was no way to determine whether so-called conflict diamonds had been eliminated from shipments.
Before it's here, it's on the Bloomberg Terminal.
LEARN MORE