Cameron Opens Way for His Cabinet to Dissent in 'Brexit' Vote
By and
Deal would break with tradition of collective responsibility

Splits in Tory party would make enforcing line difficult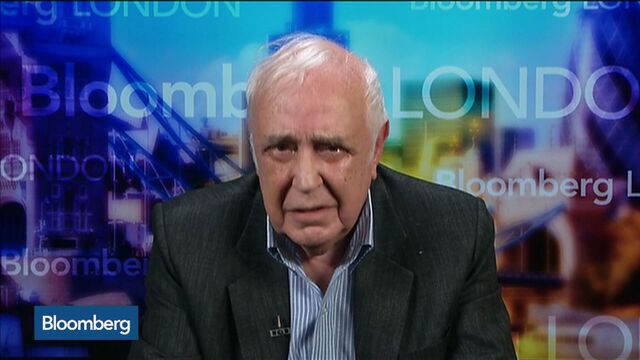 Prime Minister David Cameron will allow ministers in his cabinet to decide for themselves whether to campaign for Britain to stay in or leave the European Union -- a so-called Brexit -- in a referendum expected later this year.
QuickTake Will Britain Leave the EU?
The premier told lawmakers in the House of Commons in London on Tuesday that ministers would not be disciplined for opposing the official government line.
"There will be a clear government position, but it will be open to individual ministers to take a different personal position while remaining part of the government," Cameron said during a statement about the progress of his renegotiation of Britain's membership of the 28-nation bloc. "It will be up to the British people to decide."
U.K. ministers are usually expected to abide by the principle of collective responsibility, which means supporting the government's agreed position even if they have personal doubts. With Cameron on course to campaign to stay inside the EU, ministers who wish to publicly disagree might otherwise have been forced to resign their posts.
Collective responsibility will apply during the negotiation, Cameron's office said. When that's over, ministers, including those in the cabinet, will be permitted to campaign against Britain's membership.
Prominent Euro-Skeptics
Senior ministers including Welfare Secretary Iain Duncan Smith, Business Secretary Sajid Javid, Leader of the House of Commons Chris Grayling and Theresa Villiers, the Northern Ireland secretary, may be among those now freed to join the campaign to leave the EU. Home Secretary Theresa May and Justice Secretary Michael Gove are among ministers who've not indicated which way they intend to campaign; though others including Education Secretary Nicky Morgan and Transport Secretary Patrick McLoughlin have expressed clear pro-EU views.
"Clearly there are people who have long-standing views about the European issue and it's never been my intention to strong arm people into voting for a position they don't agree with," Cameron told lawmakers. "The entire government is signed up to the position of having a successful renegotiation then holding a referendum."
Graham Brady, the chairman of the 1922 Committee, which speaks for rank-and-file Conservative members of parliament, wrote in the Sunday Telegraph newspaper last month that there was an "overwhelming case" for allowing freedom of conscience on the issue.
Cameron, who agreed to a referendum to deal with splits within the Tories, has so far managed to keep a lid on these divisions. In June, he appeared to signal that he would expect ministers to support him, saying the government couldn't be "neutral" on the matter. The following day he backed away from that, with his office saying his words had been "overinterpreted."
The prime minister refused to be drawn on the precise timing of the referendum, saying he will push for a deal at the European summit next month, which would then need to be followed by legislation to set the date and at least three months of campaigning 
before voting. Foreign Office Minister David Lidington has indicated that the necessary law would take about six weeks to pass through Parliament.
No Haste
"We will try to reach agreement in February and if that's possible I'm keen to get on and hold a referendum," Cameron said. "But it shouldn't be done in any undue haste."
The premier said he will not resign if he fails to win the vote. "Come what may, I will continue to lead the government in the way that I have," he told lawmakers.
Matthew Elliott, chief executive of the Vote Leave campaign, welcomed the suspension of collective responsibility.
"The referendum could be as little as 170 days away, so ministers should be allowed to campaign openly as soon as the renegotiation is complete," he said in an e-mailed statement. "The British people deserve to hear where their elected representatives stand on this vitally important issue."