Analyst With Street-Low Price Target Warns of 'Structural Reset' to Chipotle's Profit Margins After Contamination Crisis
by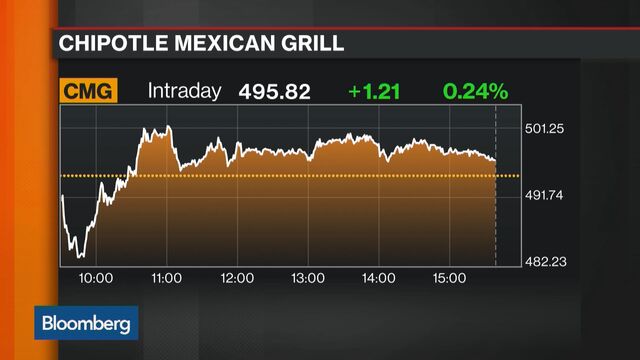 Chipotle Mexican Grill's contamination crisis will have a larger than anticipated impact on the quick-service restaurant's financial performance, according to Stephens Analyst Will Slabaugh.
The analyst initiated coverage on the stock with an underweight rating in a note to clients on Tuesday. His price target of $425 is the lowest among estimates compiled by Bloomberg. The stock closed at $448.81 in trading on Monday.
Analysts haven't adequately ratcheted down their earnings estimates for the next two years, Slabaugh contended. Management has indicated that Chipotle will alter its supply chain and make other investments in food safety in order to avoid chronic problems in this  area.
"From a financial standpoint, we would remind investors that management has noted that that the investments are 'going to impact our margins and our operating costs,' which we do not believe is being fully reflected in [fiscal year 2016], or more importantly in [fiscal year 2017] estimates," wrote Slabaugh, who warned of a "structural reset" for store-level profitability.
The chain's profit-margin advantage relative to its peers should shrink in light of these investments, coupled with rising labor costs, he wrote; in light of the potential loss of customers stemming from this episode, management is also likely to keep large price hikes off the table during the next couple of years. Based on previous instances of quick-service restaurants recovering from a swoon wrought by a food-borne illness, Slabaugh expects consolidated same-store sales to fall 1.5 percent in fiscal year 2016.
In an attempt to identify where shares of Chipotle might find some support on the basis of valuation, the analyst drew a comparison to an unrelated company that suffered a public relations blow in relation to a lack of quality control: Lululemon Athletica.
In 2013, the Vancouver-based company was forced to recall some women's pants after they were found to be too sheer. A contraction in Lululemon's stock multiple followed:

As such, Slabaugh expects the stock price to settle at around 20 times its expected earnings in 2017.
"Using this as a guide and our $17.15 estimate for [fiscal year 2017 earnings per share], we believe a range of $345-$430 is appropriate for [Chipotle] during its time of reinvestment and brand recovery," he concluded.
While Slabaugh foresees considerably more short-term turbulence for the stock than his peers do, the analyst said he doesn't think this scandal will permanently scar Chipotle's brand.
Before it's here, it's on the Bloomberg Terminal.
LEARN MORE