Algeria's Rulers Offer to Give Up Some Powers to Avoid `Anarchy'
By and
Proposals include limiting president to two terms in office

Tamazight language to be recognized as `national and official'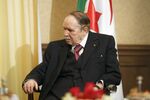 Algeria's rulers announced plans to give up some powers and restrict presidential terms, amid speculation about the health of the nation's ailing leader and infighting over his successor.
Under the proposed constitutional amendments, the president would be restricted to two terms, reversing a move taken in 2008 that allowed Abdelaziz Bouteflika to win a third election. The appointment of a prime minister would need the support of a parliamentary majority, according to details released on Tuesday. A long-standing demand for official recognition of the widely-spoken Tamazight language would be met.
Political uncertainty in Algeria, a bulwark in the fight against Islamist extremists and growing regional turmoil, has been compounded by the global slump in oil prices, which forced the government to dig deep into its reserves to fund public spending that helps keep the peace. The 78-year-old Bouteflika has suffered two strokes and is rarely seen in public.
"We don't want Algeria to fall into anarchy, we have seen what has happened in other countries," top cabinet bureaucrat and former premier Ahmed Ouyahia said during a news conference in Algiers as he unveiled the proposed charter changes. "This isn't a project that concerns politics only, it also touches the lives of citizens."
When unrest spread in Libya and Tunisia after the Arab Spring in 2011, there were riots in Algeria too. The government responded with force, and then with increases in subsidies and wages. That helped keep Bouteflika's National Liberation Front, which has ruled since independence from France, firmly in power in the nation of 39 million, where memories of the civil war may also have deterred would-be revolutionaries.
'Right Direction'
"This isn't going to be a watershed, but if you take it for what it is, it's incrementally positive," said Riccardo Fabiani, senior North Africa analyst at Eurasia Group. "It's a country very slowly moving in the right direction."
Plans for an independent body to oversee elections, often criticized for being rigged, and moves to expand the right for peaceful protest and press freedom would mark a major shift for one of North African's most secretive nations, where power is traditionally shared with the army and intelligence services.
Some opposition groups, including the party led by the runner-up in the 2014 presidential election Ali Benflis, have dismissed the proposed changes as cosmetic. The revisions will be submitted to the cabinet in January, and then to the constitutional council, which will decide whether they will put to a lawmakers' vote or a referendum.
The government also pledged to take steps to encourage investment and open up the economy, which is facing growing headwinds. Oil revenue, used to subsidize fuel, food and housing, fell nearly 50 percent last year and led to Algeria's first budget deficit in a decade.
"It's becoming more and more clear that they aren't going to cut spending during a succession that is so delicate, their hands are tied," Fabiani said, adding that Algeria will probably have to tap the international bond market by 2017 as its reserves are depleted.
Language Demand
The acknowledgment of Tamazight, spoken by North Africa's indigenous Amazigh, as an official national language would end a source of longstanding tension. The Amazigh were only acknowledged as a component of Algeria's national identity after bloody confrontations in 2001, though their language has been taught in schools since 1995.
Bouteflika's health, though, remains a key issue while there's no clarity over who will succeed him. A group of politicians has demanded to meet him to ensure he's still making decisions, amid local media reports that suggest Bouteflika's brother Said is actually in charge and creating support for his own potential presidential ambitions.
Given the reforms don't include a vice-presidential post, "the problem of succession remains," Algiers-based political analyst Rachid Grim said by phone. "Despite these new measures, the system will not change by itself."
Though the political uncertainty is real and potentially destabilizing, the situation in Algeria is far from the turmoil of other countries in the region, Fabiani said.
"Even the regime's opponents are saying the same thing, that 'we want dialogue and we want reform, but we want to do this gradually -- we don't want to be like Libya or Syria,'" he said. "This is what keeps the country together, no one is ready to take it to the extreme."