A Longevity Puzzle: Why Do Poor Costa Ricans Outlive Poor Americans?
In the U.S., income and health go hand-in-hand. That's not the case everywhere.
By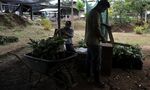 Does being poor mean being less healthy? In the United States, the answer is generally yes: Income and health are intertwined, and the richer you are, the healthier you're likely to be.