'Brexit' Gamble Enters Crunch Phase as Cameron Returns to Merkel
by and
Chancellor said to regard referendum as strategic mistake

Cameron faces opposition to proposal to curb welfare payments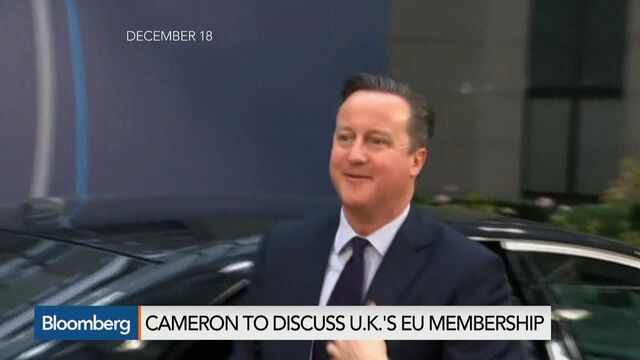 The paradox of David Cameron's European Union renegotiation is that the prime minister who's taken Britain closest to leaving the bloc is also the one who's setting the record for EU diplomacy.
Cameron travels to Bavaria on Wednesday to meet with German Chancellor Angela Merkel and senior members of the Christian Social Union, her political allies, before heading to Hungary on Thursday. It's his fourth meeting with Merkel outside of EU summits since his election victory in May. In November, he made the first visit to Austria by a British premier in 30 years, one of more than two dozen meetings across the continent with EU leaders.

The prime minister needs European allies because his political survival rests on him persuading his 27 fellow leaders to agree to changes to Britain's EU membership terms that he can sell to the British public as concessions. The trickiest of these is his pledge to restrict the ability of non-British EU citizens to claim in-work welfare payments, something that other governments, including Germany's, regard as a restriction on the fundamental principle of free movement.
"Shuttle diplomacy can only get you so far," Tim Bale, professor of politics at Queen Mary University of London, said in a telephone interview. "In the end, no amount of emollient personality can remove other countries' fixed objections."
'Active and Engaged'
The German government continues to view the U.K. referendum on EU membership as a strategic mistake, but is willing to move in Cameron's direction to help him stay in the 28-nation bloc, according to a government official with knowledge of the chancellor's strategy. All the same, some of his demands simply cannot be fulfilled, the official said, asking not to be named because the negotiations are private.
QuickTake Will Britain Leave the EU?
It will be crucial "in the next few weeks that we make decisions that in our own interest will lead to the U.K. being able to remain part of the EU," Merkel told reporters in the Bavarian Alps before her meeting with Cameron.
The prime minister left an EU summit in Brussels last month in a confident mood, hinting he hoped to hold his promised referendum this year. "There was strong support for Britain to stay in," he told lawmakers in London Tuesday. "The most difficult issues were around free movement and welfare. But there was a great deal of goodwill."
Inconclusive Polls
Confidence among U.K. services firms still slid to a three-year low last month as the risk of Brexit exercised executives, data released Wednesday showed. In evidence to a Parliament hearing the same day, Mark Astaire, one of Barclays Plc's most senior investment bankers, said London would "continue to thrive" as a financial center if Britain opted to quit the EU.
Opinion polls are similarly divided. Two telephone polls last month showed leads of 21 and 17 percentage points for staying in the EU, while two online surveys showed the stay camp running neck-and-neck with leave campaigners. Cameron has said the referendum will be held by the end of next year at the latest.
Poland, the biggest source of EU migrants, has opposed Cameron's proposed four-year ban on EU migrants claiming welfare. But the country's foreign minister, Witold Waszczykowski, said in an interview published Jan. 3 that there might be room for compromise if the U.K. were to back the idea of a larger NATO presence there.
Similarly in Germany, a proposal aired by the CSU, sister party to Merkel's Christian Democratic Union, for a 12 month period before non-British EU citizens can claim welfare may constitute a compromise, according to the German official. Cameron and Merkel will meet on Wednesday evening in the Bavarian resort of Wildbath Kreuth, with the aim of making progress on a deal by next month's EU summit, the official said.
Puzzled, Irritated
While his counterparts may resent Cameron for introducing fresh problems to the EU with his referendum, he argues that he is dealing with an issue that was bound to come to the fore anyway. As well as explaining that position, he will also have to talk Germans through his announcement Tuesday that ministers in his government will be free to campaign for exit. That latest twist puzzled and irritated the Chancellery, the German government official said.
This decision, which the prime minister has been avoiding for months, may represent confidence that he can win the referendum even with senior Conservatives taking the opposite side. It has the advantage of avoiding damaging resignations from the cabinet, and may also call the bluff of those ministers who have flirted with backing a vote to leave.
"It prevents the 'Leave' campaign from arguing that he's not allowing a fair fight," Bale said. "But it does also suggest he doesn't think he's going to be able to persuade everyone in his cabinet to back him."
Before it's here, it's on the Bloomberg Terminal.
LEARN MORE