The Worst Is Over for Flooded St. Louis But It's Heading South
by
Mississippi River reached third-highest point ever in the city

Pipelines, terminals remain closed along swollen rivers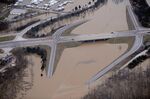 There's good news for the people of St. Louis: After a New Year's ravaged by flooding and destruction, the worst appears to be over.
Most of Missouri's major roads and highways are open again and so is the 6-mile stretch of Mississippi River around St. Louis Harbor that the U.S. Coast Guard closed last week. The Meramec River, which rose 35 feet (11 meters) over three days and created much of the region's havoc, is receding.
"It's come down almost as fast as it went up," Mike O'Connell, a spokesman for the Missouri Department of Public Safety, said in an e-mail.
Heavy December rains across the Midwest created the flooding, forcing the closing of pipelines, terminals and grain elevators and killing at least 30 people, according to state emergency officials in Missouri, Illinois and Oklahoma.
The Mississippi rose to its third-highest level ever in St. Louis on Jan. 1 and notched record heights the following day in the river towns of Cape Girardeau and Thebes, Missouri, Jeff Masters, co-founder of Weather Underground in Ann Arbor, Michigan, said on his blog.
Moving South
Now, the swollen waters are snaking south, where officials will try to manage much of the overflow with levees before it arrives in Baton Rouge and New Orleans about Jan. 19, said Jeff Graschel, a hydrologist at the Lower Mississippi River Forecast Center, an arm of the National Weather Service, in Slidell, Louisiana.
On Monday, regions south of St. Louis were pivoting out of emergency mode. The National Guard left St. Genevieve County on Saturday and was scheduled to depart nearby Perry County late Monday, O'Connell said. The Missouri Transportation Department is preparing to open the Chester Bridge into Illinois as soon as Monday evening after an inspection and evaluation, he said.
Still, troubles remain. Fifty miles (80 kilometers) of the Illinois River remain closed and another 50-mile stretch is open with restrictions, the Coast Guard said.
CME Group Inc. declared force majeure at U.S. soybean shipping stations, all of which are located on the Illinois River. The majority of depots can't load cargoes linked to deliveries against futures contracts because of high water levels and flooding, CME said in a statement Monday, citing exchange rules. The declaration is effective until further notice, protecting the shippers from liability for contracts that go unfulfilled for reasons beyond their control.
Restricted River
Meanwhile, the Coast Guard has reopened the 76-mile stretch of Mississippi River between Chester, Illinois, and Billings Landing, Missouri, it said in an e-mailed statement Tuesday.
The Mississippi River was cresting near Cairo, Illinois, on Monday, reaching 56 feet, a record for this time of year but below the all-time mark of 61.7 feet set in 2011, Graschel said. That was below estimates for that part of the river from last week, which could be good news for cities downstream, he said.
"As we go south from Cairo, the levee system can contain lots of the flow," he said. "Any businesses and farming inside the levee systems will be impacted."
The Coast Guard also instituted a high-water safety advisory for a 21-mile stretch of the Mississippi River near Baton Rouge, it said. Towing limitations are still in effect near Morgan City, Louisiana, for vessels heading south that are 600 feet or shorter.
Kinder, Exxon
Kinder Morgan Inc. kept shut its Cahokia terminal in Sauget, Illinois, and its Cora terminal in Rockwood, Illinois, company spokesman Richard Wheatley said by e-mail. Cahokia handles chemicals, coal, cement and metals while Cora handles coal and petcoke, according to the company's website.
Exxon Mobil Corp.'s Memphis products terminal also remains closed, spokesman Todd Spitler said in an e-mail. "We will restart the facility as soon as it is safe to do so," he said.
Steve Lee, a spokesman for refiner Valero Energy Corp., didn't respond to an e-mail seeking comment on the status of its Memphis refinery along the Mississippi River. Valero also has a dock on the river.
Enbridge Inc.'s Ozark pipeline remains shut, as it has been since Dec. 30. The pipeline crosses the Mississippi River. Water levels at the crossing were receding but still very high, spokesman Michael Barnes said in a phone interview Monday. He estimated that it would be several days before inspection teams are able to check if it's safe to restart the pipeline.
Cargo Creativity
Randy Gordon, president of the National Grain and Feed Association, said that inland grain elevators are also having trouble loading cargoes on barges. Companies are instead attempting to load products on trains or trucks for delivery, he said in a phone interview.
"We're expecting some ripple effects from the flooding and high water levels to continue to move south and affect that whole New Orleans, lower Mississippi region over the next three weeks," Gordon said. "It's going to have a relatively long tail to it."
Before it's here, it's on the Bloomberg Terminal.
LEARN MORE