Schulich Says He Won't Tender Shares in Suncor Hostile Bid
by
Businessman says he holds 5 percent of Canadian Oil Sands

He says the bid is way too low and other shareholders agree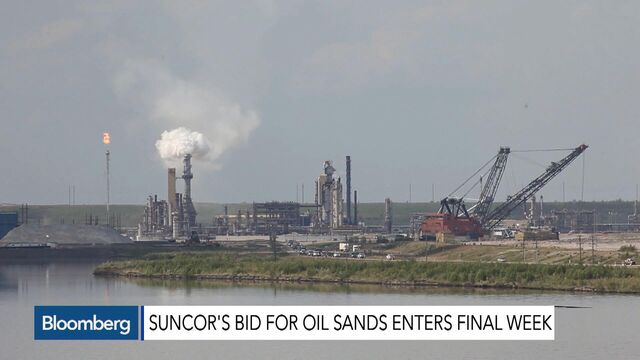 Canadian businessman Seymour Schulich said he won't tender his shares to Suncor Energy Inc. in its C$4.3 billion ($3.1 billion) hostile bid for Canadian Oil Sands Ltd.
Schulich, who says he owns 5 percent of Canadian Oil Sands, which would make him one of its biggest holders, said he would prefer to hold on to his shares and wait for a rebound in oil. He said he has been in contact with several other shareholders, who he said feel the same.
"Everybody I have talked to thinks the offer is too low," he said Monday in a telephone interview. "What they end up doing as a result of that, God only knows." 
Suncor has offered 0.25 of its own shares for each Canadian Oil Sands' shares in the bid, which is set to expire Friday. The offer is worth about C$8.79 a share, a 12 percent premium on Canadian Oil Sands' share price at 11:56 a.m. Monday, according to data compiled by Bloomberg. Suncor said its offer represents a 44 percent premium to Canadian Oil Sands' pre-bid trading price, and is conditional on two-thirds of Canadian Oil Sands' shares being tendered.
Schulich said he's invested in Canadian Oil Sands because its share price tends to be better correlated with the rise in oil prices than Suncor's own shares. He said he wasn't interested in owning Suncor. He acknowledged that he may reconsider if Suncor gets the two-thirds minimum threshold required for its tender offer. 
Half-Price
He equated the hostile bid to someone coming to your house, standing on your front lawn, offering you half the price you paid for it, and saying, "It's a full, fair, firm, final offer."
Schulich said he approached Suncor to see if it would add a warrant to the offer that would protect Canadian Oil Sands' shareholders if the price of oil were to rise again over a set period of time. Suncor hasn't sweetened the bid.
Suncor urged Canadian Oil Sands' shareholders to tender their shares immediately while Canadian Oil Sands' board urged them to do nothing, arguing the company is better off on its own.
"I've got two words for you, and the second is 'off'," Schulich said. "I don't recall putting my house on the market, number one. I don't want to sell it at half what I paid, number two. And number three, go away."
Before it's here, it's on the Bloomberg Terminal.
LEARN MORE