Planes, Trains and Automobiles Showcase Japan Innovation Push
by and
Abe plans to ramp up innovation ahead of 2020 Olympics

Rivals in China, South Korea are paving the way in R&D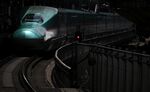 Japan is looking to reboot.
As part of Prime Minister Shinzo Abe's drive to reinvigorate the world's third-largest economy, the nation is striving to accelerate innovation ahead of hosting the Olympics in 2020.
Support is being rolled out for public and private-sector joint projects, such as a push to put driver-less cars on the road and efforts to utilize leading-edge technology based on robotics.
Abe aims to boost the ratio of investment in research and development to the economy's size to 4 percent by the close of the fiscal year ending March 31, from 3.75 percent two years ago. By early 2018, the government wants Japan to be the top-ranked nation for innovation.

There has been progress in the aviation industry, which has made world headlines in recent months. The first passenger plane developed in Japan in more than half a century made its debut flight, the government is closing in on becoming only the fourth nation to test-fly its own stealth jet, and Honda Motor Co. received U.S. certification for a $4.5 million business jet that the company bills as the fastest, quietest and most fuel-efficient in its class.  
Health care is also showing gains. The government in 2014 eased approval rules for regenerative medicine, giving Japanese companies a head start in getting their products on the market in this sector. Fujifilm Holdings Corp. is testing ambitious ideas for stem cells capable of regenerating tissue in the human body. Elsewhere, high-precision light sensors made by Hamamatsu Photonics KK helped win last year's Nobel Prize in physics.
Before the Bubble
At the height of its industrial prowess, Japan gave the world the Walkman and bullet train, helping to set the pace for global innovation.
In more recent years, though, the record has been mixed. Stagnating economic growth and spiraling deflation after a real estate and stocks bubble that burst in the early 1990s has weighed on corporate confidence and ambitious plans. 
At the same time, new rivals have arrived as rapid development in neighboring China and South Korea has fired up spending on innovation. Where Japan once led in fields like home entertainment, today's smartphone and Internet era belongs to non-Japanese brands including Google, Apple and Samsung.

Japan remains a world leader in the auto industry. Nissan Motor Co. in November displayed a concept car with a retractable steering wheel and message-flashing windshield, joining Honda and Toyota Motor Corp. in exhibiting vehicles with autonomous modes capable of changing lanes and avoiding collisions.
Auto Heavyweights
"Toyota and other existing car companies still have a huge advantage in this industry in terms of market share, technologies, and data," said Tak Miyata, founder of Scrum Ventures, a San Francisco-based firm that provides funding to startups. "Unlike the failure in smartphones, if they can move fast enough, Japan can win in this category and lead innovation."
Yet even as Abe's government plans more spending on new technologies, competitors are accelerating their efforts.
Both China and South Korea have increased research and development spending at a faster pace than Japan in recent years, according to the Organisation for Economic Cooperation and Development.

The expenditure on R&D as a proportion of gross domestic product for China rose to 2.08 percent in 2013 from 0.9 percent in 2000, while the figure for South Korea increased to 4.15 percent in 2013 from 2.18 percent in 2000, according to OECD data. In Japan it was 3.47 percent in 2013, up from 3 percent in 2000.
One of the biggest risks to Japan comes from China, where companies are acquiring their South Korean counterparts at a record pace, tapping into one of the world's most innovative countries to accelerate President Xi Jinping's push for an economy led by technology and consumer services.
"The Chinese are similar to the Americans when Kennedy said: I want to put a guy on the moon," said Bob Gogel, chief executive officer of Integreon, who has three decades of experience in global outsourcing, technology and consulting services, including in China.
Capital Spending
While recent data show Japanese companies increasing capital spending, many have been reluctant to invest heavily in their home market and expenditures remain well below a peak set in 2007.
The biggest challenge is to get funding for the right kind of programs that will boost productivity and yield economic dividends, according to Hidenobu Tokuda, senior economist at Mizuho Research Institute in Tokyo.
"There's little need for Japan to increase the amount of R&D spending further," Tokuda said. "Rather, Japan has to improve the quality of its R&D expenditure."
Erik Roth, a Shanghai-based senior partner at McKinsey & Co. who specializes in innovation, sees it differently.
Given the increasing competition, Japan must make a significant investment just to hold onto its current position in the innovation race, he said.
"As fast as they are going, they are treading water," Roth said. "If they are going to accelerate, they will need to do more."
Before it's here, it's on the Bloomberg Terminal.
LEARN MORE