Options Traders Adding to Bullish Bets on Europe Stocks for 2016
by
Euro Stoxx 50 beat S&P 500, index of global shares in 2015

Among attractive points: low valuations, high dividend yields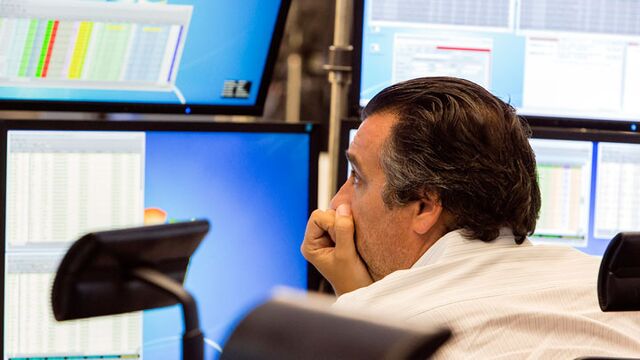 Even after a rough December, Europe's stock investors are confident that 2016 will bring gains.
Traders are paying the least in a year to hedge against losses in the Euro Stoxx 50 Index, and they're pouring money into European funds as strategists forecast a fifth straight year of increases. While the gauge fell 6.8 percent in December, its worst end to a year since 2002, it still beat a measure tracking equities worldwide in 2015. The measure fell on Monday.
With the European Central Bank continuing its economic support as the Federal Reserve has begun tightening, investors have flocked to the region, sending money into its equity funds for 30 of the past 32 weeks, according to a Bank of America Corp. note dated Dec. 23. Its shares are cheaper, have a better dividend yield, and strategists forecast they'll climb another 12 percent in 2016.
"Europe is a good place to invest because of the fundamentals," said Herbert Perus, head of equities at Raiffeisen Capital Management in Vienna. "For stock pickers, it's a really good market. There are a lot of companies that are really cheap, well managed, have a good product, a nice cash flow stream, a nice dividend yield."


Companies on the Euro Stoxx 50 trade at 14.2 times estimated earnings, less than those on the Standard & Poor's 500 Index or the MSCI All-Country World Index. Their dividend yield of 3.6 percent is 1 percentage point higher than that for the global-stocks measure.
What's more, while analysts estimate profits at S&P 500 members declined in 2015, they project growth of 10 percent at European companies, followed by more than 4 percent each year through 2018.
While the Euro Stoxx 50 never made it back to its April high, it still managed to climb 3.9 percent last year. The most-owned option on the index has investors betting on a 7.1 percent jump by mid-January. Germany's DAX Index was among the best performers of 2015, climbing 9.6 percent as Asian, U.S. and developing-markets shares fell.
"I'm pretty optimistic for 2016, given the resilience of developed economies -- especially Europe -- in the face of external shocks such as the slowdown in emerging markets," said Steven Santos, a broker at Banco de Investimento Global SA in Lisbon. "I'd go for small-cap stocks in Europe, which will benefit from the ECB's stimulus program."
Before it's here, it's on the Bloomberg Terminal.
LEARN MORE