Obama's Action to Expand Gun Checks Draws Swift Opposition
Justin Sink and Toluse Olorunnipa
President to unveil initiatives over next several days

Small-scale sellers targeted for tighter regulations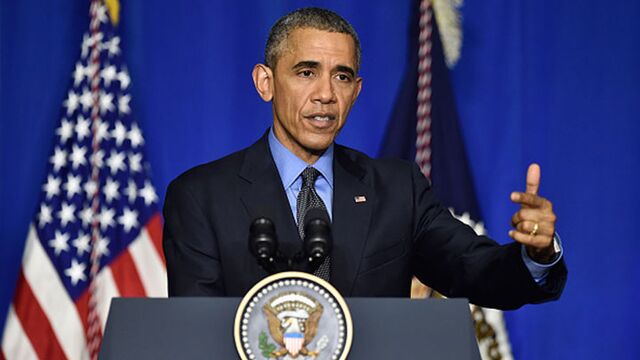 President Barack Obama on Tuesday will unveil a package of executive actions to expand background checks for gun purchases, moves that will generate backlash from Republicans yet have only limited impact on the millions of guns circulating in the U.S.
The measures include tougher rules for those who currently sell firearms at gun shows and on the Internet without submitting buyers' names for criminal background checks, and a warning to sellers that they face criminal prosecution if they try to skirt the law.
The administration proposes hiring hundreds of new workers to modernize the background check system and to handle the additional requests for checks. In addition, Obama is requesting $500 million for new mental health research and the Department of Health and Human Services is clarifying rules to remove some of the barriers to reporting mental health status to the background check information system.
The initiative falls short of the broad changes in gun laws that Obama has called for in the past, which would require action by Congress. But it drew criticism even before it was previewed by White House officials Monday night. House Speaker Paul Ryan, a Wisconsin Republican, said in a statement that Obama "is at minimum subverting the legislative branch, and potentially overturning its will."
Defining Dealers
Potentially the most contentious piece of Obama's executive actions is broadening the definition of a gun dealer. The plan targets small-scale gun sellers, who may conduct transactions from home, a gun show or via the Internet and aren't required to hold a license or submit buyers' names for federal background screening.
However, the expanded background checks wouldn't have blocked the sales of weapons used in most recent mass shootings, including the December terrorist attack in San Bernardino, California, and the 2012 massacre at an elementary school in Newtown, Connecticut. The firearms in those cases were purchased legally through conventional outlets.
Weapons Sources
Research shows few of the guns bought from unlicensed dealers are sold directly to criminals. A study by the Justice Department found that just 0.7 percent of state prison inmates in 1997 had purchased their weapons at a gun show. By contrast, nearly 40 percent of inmates said they obtained the firearm used in their crime from family or friends, and 39 percent said they got the weapon from an illegal street source.
That's supported by a study released last year by researchers at the University of Chicago and Duke University, who surveyed inmates at Chicago's Cook County jail. They found that it was rare for criminal offenders to obtain guns through formal channels, with just one in 10 saying they had purchased the weapon at a gun store or pawn shop. Some 70 percent said they instead got their weapons through friends, family, or street connections, and that weapons had regularly passed through multiple owners.
"What they told us was that they were not buying their guns at flea markets or gun shows," said Philip J. Cook, a professor of public policy, economics and sociology at Duke's Sanford School of Public Policy who co-authored the study.
"To the extent that continues to be the case, I would say the president's action in this area is not going to have much direct effect on criminal access to guns," he said.
Still, Cook said the move could have an indirect effect on preventing gun deaths by disrupting the supply chain to the underground market.
Obama's Limits
Obama, who failed to get background check legislation passed after the massacre in Newtown, acknowledged the limits of what he can do without help from lawmakers.
"Although we have to be very clear that this is not going to solve every violent crime in this country, it's not going to prevent every mass shooting, it's not going to keep every gun out of the hands of a criminal, it will potentially save lives and spare families the pain and the extraordinary loss that they suffer as a consequence" of gun violence, he said Monday after meeting with Attorney General Loretta Lynch, FBI Director James Comey and Thomas Brandon, deputy director of the Bureau of Alcohol, Tobacco, Firearms and Explosives.
Registering Dealers
Lynch said in a conference call with reporters Monday that it was "impossible to predict right now how many additional dealers will register." There has been a steady expansion of people seeking exemptions from the current rules in recent years, she said, as well as a notable increase in gun sales over the Internet.
Gun control advocates argue that any constraints on access to weapons will reverberate throughout the murky gun market that has been booming as the threat of new restrictions has made news. According to the Federal Bureau of Investigation, the agency's National Instant Background Check System processed 23.1 million firearm background checks in 2015. That was 2.2 million more than the previous year, and an all-time record for the agency.

White House officials argued the impact of the executive actions would be tangible. Press secretary Josh Earnest said that over the past 15 years, an average of 1,300 guns reported as lost or stolen had been recovered annually at crime scenes. The steps to tighten reporting could help reduce that number. And, the White House said, additional mental health screenings could help prevent suicides that represent two-thirds of the nation's 30,000 annual gun deaths.
Legislation Sought
Still, the White House said more substantial progress could only be accomplished if legislation, opposed by groups like the National Rifle Association, allowed further gun controls and the collection of additional data. Even determining annual U.S. gun sales is difficult. Only a handful of gunsmiths -- including Smith & Wesson Holding Corp.; Sturm Ruger & Co., and Olin Corp. -- are publicly traded and disclose sales.
"This doesn't move the needle as much as I'd like, but it's a start," said Representative Elizabeth Esty, a Connecticut Democrat whose district includes Newtown.
She and Connecticut Senator Chris Murphy were among the Democratic lawmakers who met with Obama and Lynch on Monday and said Congress must step up with legislation.
"It's beyond comprehension that Congress is turning a blind eye to the murder and mayhem in the communities we serve," Murphy said in a statement.
Legal Challenges
The moves are all but certain to draw a court challenge and a response from Republicans in Congress. Representative John Culberson, a Texas Republican who chairs a key appropriations panel, sent Lynch a letter Monday warning he would "use every tool at my disposal to immediately restrict" her department's funding if it proceeds with "new restrictions on our Constitutional rights."
University of Chicago law professor Eric Posner said Obama has the authority to issue a reinterpretation of an existing statute but can't run afoul of the Supreme Court precedent which holds that the U.S. Constitution's Second Amendment guarantees people the right to bear arms for self-defense. 
"He has to interpret it in a reasonable way," Posner said of the president. "He can't just make up any interpretation."