Hong Kong's Chief Executive Concerned Over Missing Bookseller
by and
Disappearance fanning fears mainland tightening grip on city

Lee Bo specializes in books critical of Chinese leadership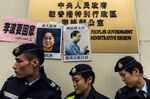 Hong Kong Chief Executive Leung Chun-ying expressed concern about the fate of a missing bookshop owner, saying that only Hong Kong authorities can enforce the law in the Chinese territory.
Lee Bo, a major shareholder of Causeway Bay Books, which specializes in material critical of the Communist Party of China, went missing and his wife reported his disappearance to Hong Kong authorities on Jan. 1, fueling fears that he had been taken to the mainland. The disappearance of Lee, 65, comes weeks after four people related to the store and its owner vanished.
"The Hong Kong government is very concerned about the case," Leung said at a press conference in Hong Kong, citing the One Country, Two Systems policy that defines the city's autonomy from China. "Only Hong Kong enforcement agencies have the right to enforce the law in Hong Kong. If outside bodies enforce the law in Hong Kong, it's a violation."
The bookstore, established in 1994, was popular among tourists from mainland China as a source of political materials banned across the border. Chinese President Xi Jinping has led a crackdown on dissent on the mainland, and the disappearances are fanning concern that the Chinese government is extending the campaign to Hong Kong, where the freedom of expression is guaranteed under the law.
The Hong Kong police have asked China whether Lee was detained in the mainland and are awaiting a reply, John Lee, acting secretary for security, said in a statement on Sunday.
Before it's here, it's on the Bloomberg Terminal.
LEARN MORE