Dick Smith Crumples Just 2 Years After $384 Million Listing
by
Australian retailer fails to obtain support from bankers

Receiver starts looking for buyer for iconic Aussie brand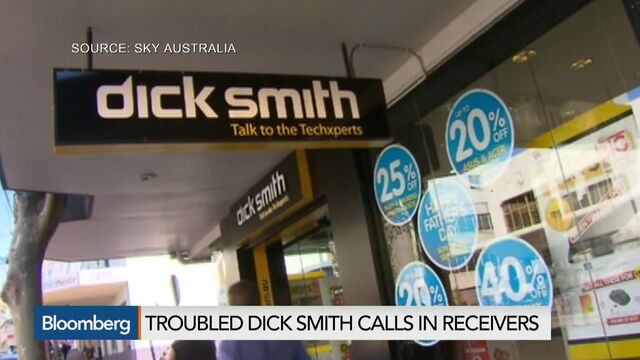 Dick Smith Holdings Ltd., the electronics retailer whose black and yellow storefronts are a feature in malls across Australia, entered administration just two years after a private equity-led listing valued it at A$534 million ($384 million).
After months of failed product promotions, December sales and earnings missed targets and the company couldn't obtain support from lenders, Dick Smith said in a statement Tuesday. Insolvency specialist Ferrier Hodgson was appointed receiver for the iconic business, which was founded in 1968 as a car-radio installation firm.
The retailer joins a list of Australian companies including Myer Holdings Ltd. that have reaped rewards for buyout firms yet failed investors once publicly listed. Shareholders started to give up on the company at the end of October after it said sales campaigns weren't working. One month later, it scrapped profit targets and wrote down assets as it struggled to clear goods from shop shelves.
"It's definitely the end of the line," said Scott Schuberg, chief executive officer of Rivkin Securities Pty in Sydney. "Dick Smith sold commodities just like everyone else, but it did a really poor job of positioning its brand. In hindsight, the first big writedown is not usually the last."
Share Collapse
The retailer's shares were suspended from trading Tuesday. The stock, which closed on Dec. 31 at 35.5 Australian cents, was sold to the public by Anchorage Capital Partners in December 2013 for A$2.20 apiece. That initial public offering was managed by Goldman Sachs Group Inc. and Macquarie Group Ltd.
Anchorage Capital, a Sydney-based buyout firm, had bought Dick Smith in 2012 from supermarket chain Woolworths Ltd. for less than A$100 million.
Founder Dick Smith, who set up the business with his wife with just A$610, described the valuation for the 2013 listing as "ridiculous," the Sydney Morning Herald reported Tuesday. It was "impossible" for the company to be worth so much more in such a short space of time, the newspaper cited him as saying.
Problems at the retailer, which has 393 stores across Australia and New Zealand and employs 3,300 people, were so deep that even the key trading weeks of Christmas couldn't save it. 
Cashflow Dries Up
Net cashflow from operating activities had evaporated as of June 28 and it had A$41 million in net debt, filings show. It was loaded with net inventory of A$293 million, up from A$253.8 million a year earlier. 
Other retailers haven't encountered such difficulties. While Dick Smith shares lost 83 percent in 2015, electronics rival JB Hi-Fi Ltd. and homeware and electrical chain-store Harvey Norman Holdings Ltd. both climbed 24 percent in the same period.
Dick Smith's weaker-than-expected December sales are also at odds with an improving trend in Australian retail spending, which rose 0.5 percent in October.
Buying in Bulk
Managing Director Nick Abboud had bet that after buying goods in bulk, he could shift them lucratively with the help of television campaigns and product promotions. But before the year was out, sales growth had receded and profit margins were shrinking. 
In an Oct. 28 trading update to investors, Abboud said earnings in the year ending June could be as little as A$37 million instead of his previous estimate of as much as A$48 million. He said he was still prepared to sacrifice profitability to clear inventory. Dick Smith shares sank 34 percent that day.
With too much stock on the books less than a month before Christmas, Dick Smith booked a A$60 million writedown on Nov. 30 and abandoned its earnings target. Investors drove down the shares a further 58 percent.
Dick Smith's future is now in the hands of administrator McGrathNicol and receiver Ferrier Hodgson.
"We are immediately calling for expressions of interest for a sale of the business as a going concern," Ferrier Hodgson Receiver James Stewart said in a statement. While Dick Smith's New Zealand unit is profitable, the company had become "cash constrained," he said.
National Australia Bank Ltd. and HSBC Bank Australia Ltd., which are in a lending syndicate to Dick Smith, declined to comment.
Before it's here, it's on the Bloomberg Terminal.
LEARN MORE