China's Hand Feared Behind Hong Kong Publisher's Disappearance
by and
Bookseller carried works critical of Communist Party elite

Four others linked to company went missing in October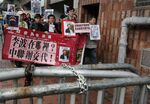 The disappearance of a Hong Kong-based publisher of books critical of China's Communist Party is fueling concerns that tactics used to limit dissent on the mainland are being exported to the former British colony.
Lee Bo, part owner of Causeway Bay Books, was reported missing Friday by his wife, who said her last contact with him was from a telephone number from Shenzhen, across the mainland border. Hong Kong police have asked their Chinese counterparts about the 65-year-old bookseller, who disappeared from Hong Kong several months after four others related to the store vanished.
While China's authorities haven't commented, the disappearances prompted Hong Kong's chief executive, Leung Chun-ying, to call a news conference Monday during which he expressed concern about the case and reaffirmed that only local authorities could enforce the law under the "One Country, Two Systems" framework that led the U.K. to return the city to China in 1997.
Concerns about encroachment on Hong Kong's freedoms under President Xi Jinping sparked the student-led democracy protests that paralyzed parts of the city for months in 2014. Since coming to power, Xi has embarked on a campaign on the mainland to tighten the party's grip on power that has included secret detentions and convictions for spreading information deemed dangerous.
"The possible intrusion into Hong Kong by law enforcement agencies in China would shatter the sense of security that is provided by One Country, Two Systems," said Albert Ho, a lawmaker and chairman of the Hong Kong Alliance in Support of Patriotic Democratic Movements in China, referring to the blueprint for Hong Kong's autonomy. "If that sense of security is being shattered, then the underlying confidence in 'One Country, Two Systems' would be torn apart."
Lee's bookstore was popular among tourists from mainland China as a source of salacious books about the country's elite banned on the mainland. He was last seen leaving a warehouse on Hong Kong island used by the company.
Report Withdrawn
Lee's wife approached local police on Monday and withdrew a request for help, the South China Morning Post reported, citing a government official it didn't identify. Taiwan's Central News Agency also published a handwritten letter said to be faxed from Lee to a bookstore colleague. In it, he said he took his "own way" to China to assist in an investigation that might take some time.
China's state-run Global Times said Tuesday the fax was proof that claims of abduction by cross-border law enforcement agents were wrong. "Opposition activists are making their utmost efforts to push Hong Kong society towards evil ways," the editorial said.
Leung said at a press conference Tuesday that police were continuing their investigation. Attempts to reach Lee's wife were unsuccessful.
"The freedom of the press and freedom of publication and freedom of expression are protected by laws in Hong Kong," Leung had said Monday. "Only legal enforcement agencies in Hong Kong have the legal authority to enforce laws in Hong Kong." Hong Kong's legal system is based on British law.
Pro-Democracy Protests
Lee's case is resonating among Hong Kong's pro-democracy activists, who seized city streets for almost three months in 2014 after China unveiled a plan to elect the city's leader from a pool of candidates vetted by Beijing. A video in which Agnes Chow -- a member of the pro-democracy student group Scholarism -- described Lee's disappearance as a "white terror incident" has garnered more than 800,000 views.
Fears of China's creeping control are reflected in a new film "Ten Years" that imagines what Hong Kong will be like in a decade. In it, locals who don't speak the Mandarin Chinese dialect dominant on the mainland are marginalized. In one episode, the death of a hunger striker protesting for independence from China prompts an old woman to self immolate.
Xi has been cracking down on dissent in China since he took over as party chief in November 2012, overseeing a more restrictive ideological environment. In the most recent summer, dozens of members of the so-called rights-defense movement were detained over allegations they attempted to manipulate court cases.
Finance Industry
Disappearances are not uncommon in China and several finance industry executives have gone missing in recent months amid probes into last summer's stock market rout. Hong Kong residents have also been vulnerable. Yim Fung, Hong-Kong based chairman and chief executive officer of Guotai Junan International Holdings Ltd., was unreachable for five weeks until he reappeared on Dec. 23. He was assisting Chinese authorities with an investigation, according to company filings.
Lee's disappearance came after four of his colleagues vanished within days of each other. Bookstore manager Lam Wing-kei; general manager of the publishing house Lui Bo; and business manager, Cheung Jiping, went missing in October while visiting the mainland, the South China Morning Post reported. Gui Minhai, a co-owner with Lee of the publisher Mighty Current, disappeared from his apartment in Thailand the same month.
Swedish National
Gui is also a Swedish national. Swedish police are investigating the disappearance, with the country's embassies in Bangkok and Beijing working on the case, said Anna Ekberg, a press officer with Sweden's Foreign Ministry.
The reach of China's law enforcement agencies has riled authorities in other countries. Australia's government last year expressed "deep concerns" after China sent two police officers to Melbourne in late 2014 without permission to question a suspected economic fugitive. The Obama administration has requested that China recall agents pursuing Chinese corruption suspects in the U.S., the New York Times reported in August.
If speculation of the abduction proves true, it would be another setback for Hong Kong democracy, said Paul Serfaty, a director of Asian Capital Partners Group, an investment bank and city resident since 1988.
"It would be an attack on independent thought," Serfaty said. "And that would be extremely damaging for Hong Kong because that is precisely the difference which has enabled the Western world to develop more progressively than China."
Before it's here, it's on the Bloomberg Terminal.
LEARN MORE