Charting the Markets: China Rout Ripples Across Stock Markets
Chinese stocks slump 7 percent, the yen rises to October high against the dollar and Shire shares drop.
by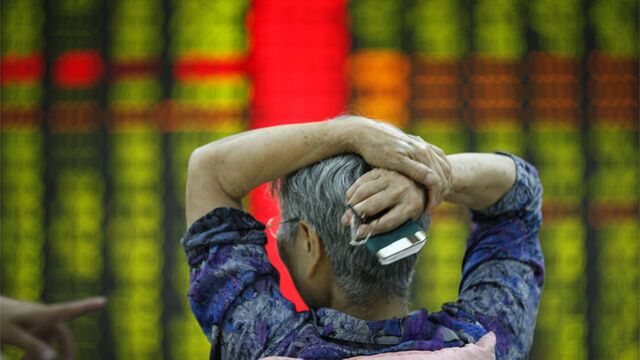 Global equities dropped after a 7 percent decline in Shanghai forced China to halt stock trading and Saudi Arabia severed ties with Iran, spurring a flight to haven assets. The MSCI Asia Pacific Index sank as much as 2.2 percent, the most since Sept.29. The Stoxx Europe 600 Index fell as much as 2.8 percent after gaining 7 percent in 2015. Last year the MSCI All Country World Index fell for the first year in four.

China halted stock trading at about 1:34 p.m. local time after the CSI 300 Index sank. The sell-off was prompted by two measures of manufacturing that showed the industry contracted again. Today's plunge is the worst start to a new year for Chinese shares and comes on the first day new circuit breakers took effect. Earlier trading was halted for 15 minutes after the CSI Index - which comprises large capitalization companies listed in Shanghai and Shenzhen - dropped 5 percent. 

The yen rose against all 31 of its major peers as investors sought the safest assets after China factory data highlighted weakness in the world's second-largest economy. The nation's official purchasing managers index remained below 50 - the dividing line between contraction and expansion - for a fifth month, the worst streak since 2009. A private gauge unexpectedly sank to a three-month low in December. Risk aversion was accentuated after Saudi Arabia expelled Iran's diplomats, a day after its embassy in Tehran was attacked to protest the Saudis' execution of a prominent Shiite cleric. The yen dropped for a fourth consecutive year against the dollar in 2015, its longest losing streak since 1972.

Shire shares fell as much as 4 percent after it stepped up interest in Illinois-based Baxalta. According to people familiar with the matter, the two drugmakers may announce a deal as soon as this week, with a $32 billion cash and stock offer under discussion. That equates to $46.50 to $48 a share. Baxalta rebuffed an unsolicited $30 billion all-stock bid from Shire in July. It valued the company at $45.23 a share. Baxalta could benefit from a lower tax rate if taken over by Shire, which has a Dublin legal address despite having many operations elsewhere.
Mark Barton is a presenter on Bloomberg TV. Follow him on Twitter @markbartontv
Before it's here, it's on the Bloomberg Terminal.
LEARN MORE