Catalan Brinkmanship on Display as Clock Ticks on Mas Government
by
CUP's Gabriel says her party is willing to support Junqueras

Catalonia's acting President Artur Mas will speak Tuesday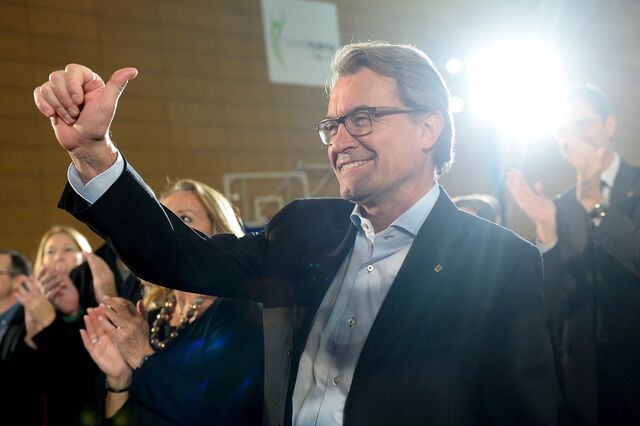 Acting Catalan President Artur Mas's most important ally opened the door to considering other candidates to lead a separatist government, in an attempt to unlock a political deadlock as a deadline to call elections in Spain's largest economic region looms.
Negotiations to form a pro-independence government in Catalonia should continue even after anti-capitalist party CUP withheld the support Mas needed for a new term, said Oriol Junqueras, the head of Esquerra Republicana, the party which agreed to jointly campaign with Mas's Convergencia in Sept. 27 regional elections. Mas said Tuesday that he was ready to sign a decree on Jan. 11 calling new elections for March if no agreement is reached before then with CUP.
Asked at the press conference in Barcelona late on Monday if his party is still committed to Mas's candidacy, Junqueras said he's placing no conditions on a new government, though he indicated he hasn't yet given up on Mas.
Support for Junqueras
Catalonia's political upheaval is adding to the uncertainty in Spain caused by last month's inconclusive national election. Catalonia represents about 20 percent of Spanish output, and the revenue raised from the 7.5 million Catalans is critical to the Spanish state's ability to fund schools and hospitals, pay pensions and service its debt.
"It would be best for Mas to abandon his independence push," Spanish Prime Minister Mariano Rajoy said in an Cope radio interview Tuesday. "If that doesn't happen, the second-best option would be holding elections."
Mas, who assumed the region's presidency in 2010, should consider stepping aside and letting another Convergencia member lead a government, Joan Tarda, a representative of Esquerra Republicana in the Spanish parliament, said on his Twitter account Monday. CUP is willing to support Junqueras to lead the Catalan government, Anna Gabriel, a lawmaker for the anti-capitalist group said in a Catalunya Radio interview.
Serving Country
"I would be delighted to serve to my country, but since July and September we have to respect some commitments," said Junqueras, referring to his pledge to support Mas for the Catalan presidency. "What's at stake is much more important than any of the details of the negotiation."
Catalonia, as a net contributor to the national tax system, has for years chafed at having to subsidize poorer regions such as Andalusia. After stepping up his separatist challenge over the past three years, Mas failed to win outright re-election as Catalan president in the September election, leaving him reliant on the CUP's backing to form a government.
Mas's bloc said Junts pel Si won't put forward additional offers to CUP, Mas said in a press conference in Barcelona on Tuesday. Elections may take place March 6 if CUP doesn't reconsider its position, he said.
"The Catalan government isn't a fish market," said Mas. "This is not an auction."
Before it's here, it's on the Bloomberg Terminal.
LEARN MORE