Photographer: George Rose/Getty Images
Can Uber and Lyft Untangle the CES Gridlock in Las Vegas?
The ride-hailing companies will try to solve the city's traffic problems during the Consumer Electronics Show by putting more cars on the road.
by and
This week, Uber Technologies and Lyft will face their biggest test yet in Las Vegas. An influx of tech geeks will descend upon the city for the Consumer Electronics Show, the world's largest technology convention, creating a major challenge for the ride-hailing companies, which began operating in the city a few months ago.
CES 2016, which kicks off Jan. 6, will attract more than 170,000 people to mingle, make deals, and gawk at the latest gadgets. Las Vegas doesn't have enough hotels to accommodate everyone, let alone taxis or trams to shuttle them around efficiently. Throughout the week, the areas surrounding the convention centers, where the show is held, and the route to the airport will be almost perpetually gridlocked. Uber and Lyft say they can alleviate some of the pain.
The transportation apps are betting that dedicated pickup and drop-off points around the convention centers and hotels will help offload some of the burden on taxis. "I'm used to multiple-hour taxi lines," said William Barnes, Uber's West Coast regional general manager. "Going from hours to minutes is a huge improvement. We're confident we're going to improve the experience for everyone."
Jim McGregor, a technology analyst at Tirias Research who has been coming to CES for more than a decade, isn't so sure. He chose to drive from his home near Phoenix to Las Vegas instead of flying to avoid having to deal with cabs or trains this week. However, he's worried Uber and Lyft will make traffic worse. "I drive to the show just to avoid the ridiculous cab lines at night, and I make sure that I drive the back roads or during non-peak times," McGregor said. "Let's face it; there is no easy way to eliminate the transportation problems during CES."

Las Vegas is more than CES, of course. The city said it attracted a record 42 million visitors in 2015. But the techie crowd at the convention should be a natural fit for Uber and Lyft, which allow smartphone owners to request a ride from contract drivers.
Nevada was a latecomer to car-booking apps. After resisting entreaties by the companies for years, state regulators finally gave permission for Uber and Lyft to start operating in September. "It has been an extremely challenging market to crack with lots of entrenched interests," said Yacob Girma, Lyft's general manager for Las Vegas. "There are lots of stakeholders that you don't want to make upset."
The San Francisco-based companies got some help from the Consumer Technology Association, which runs CES. The trade group lobbied Nevada authorities to grant them licenses to operate. "We worked hard to get Uber and Lyft legalized in Vegas," said Gary Shapiro, the president and chief executive officer of the Consumer Technology Association.
Local taxi companies saw the debate as an opportunity to appeal for fewer restrictions of their own. The state lifted limits on where they could operate and the number of taxis allowed on the road, changes the taxi firms said were needed to make them more competitive with their new tech-savvy rivals. They're also pushing—so far unsuccessfully—for Uber and Lyft to reclassify drivers as employees, who would be eligible for Social Security and other benefits, to align their cost structure with that of taxis and limo operators.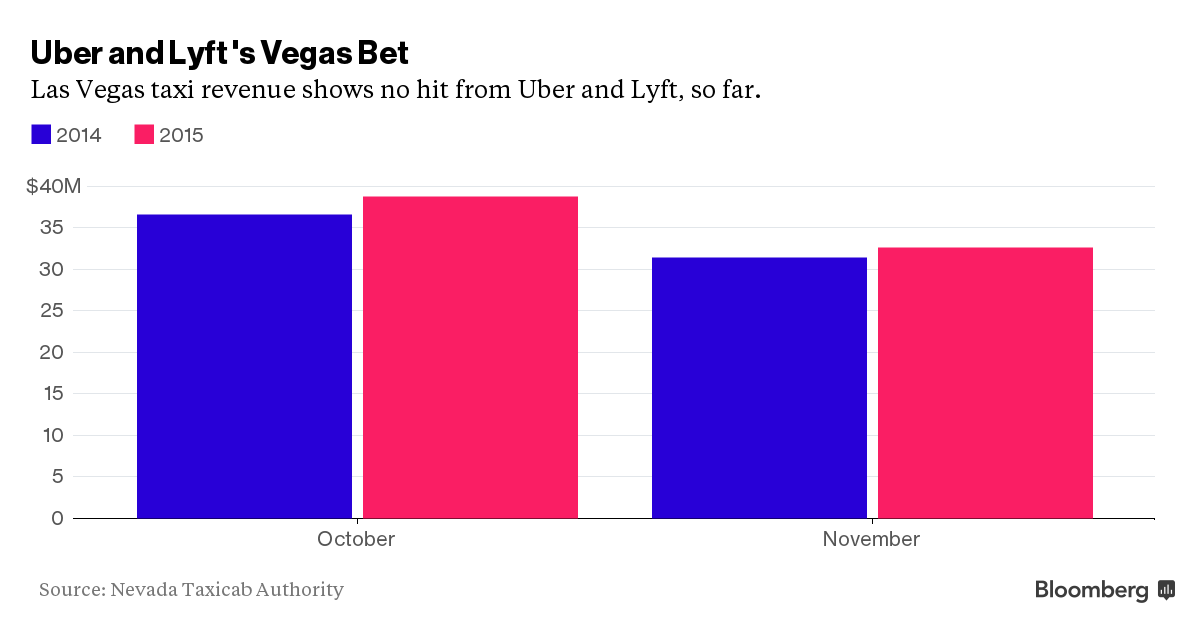 During the first few months since Uber and Lyft hit the road, taxis have weathered the onslaught. In November, total taxi receipts were up 3.7 percent to $32.6 million, according to the Nevada Taxicab Authority. After the rule changes, taxi companies were able to deploy about 1,000 more taxi medallions, which are permits to operate cabs, in November than they had a year earlier.
Still, the local taxi industry objects to tech companies muscling in on its territory. Kimberly Rushton, executive director of the Livery Operators Association of Southern Nevada, said inexperienced drivers risk further entangling the traffic around hotels and the conference halls. Uber and Lyft drivers are supposed to drop off CES-bound riders at a designated lot. "You'll have a lot of drivers who'll pick up and drop off wherever they want," she said. "You've got new drivers in the market who don't have drivers' meetings. They're just out there to pick up riders. They don't have that same expertise."
Gina Valvo, a Las Vegas native who started driving for Uber and Lyft a few months ago, managed to learn the ropes quickly. "I did a couple of pickups at the Las Vegas Convention Center. It's really not too difficult," she said. But CES should pose a much bigger challenge than Stetson Country Christmas, a Western gift expo where Valvo picked up several customers in December.
In some cities, Uber and Lyft offer carpooling services, which can help reduce traffic by piling more people into each car. Those options, which are also cheaper, aren't available in Las Vegas yet. Cost could be a touchy subject for people trying out the apps during CES. Each company adjusts fares based on demand and other factors, a practice known as surge pricing. During the nerd-fest of CES, high demand is pretty much guaranteed.
Before it's here, it's on the Bloomberg Terminal.
LEARN MORE