Byron Wien Sees Weak Stocks, Clinton Victory in '16 Predictions
by
Treasury yields stick below 2.5%, says the Blacktone exec

Oil stays in the $30s while the dollar falls versus the euro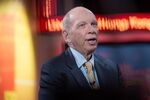 American stocks will decline again in 2016, yields on 10-year Treasury bonds will hold below 2.5 percent and Hillary Clinton will be elected president, according to a list of predictions published annually by Byron Wien of Blackstone Group LP.
Weak earnings hurt by margin pressure and a contraction in valuations will spur a down year in U.S. equities -- which along with a soft economy will support government bonds, wrote Wien. His prediction for flat Treasury rates came true in 2015 while calls for an outperformance in U.S. stocks over international equities flopped. Wien, vice chairman of multi-asset investing at Blackstone, has published the "surprises" list since 1986.
"The weak American economy and the soft equity market cause overseas investors to reduce their holdings of American stocks," Wien wrote in a statement published on his firm's website. "An uncertain policy agenda as a result of a heated presidential campaign further confuses the outlook. The dollar declines to 1.20 against the euro."
Among other predictions: Clinton defeats Ted Cruz for the presidency and Democrats gain control of the Senate; the Federal Reserve boosts rates only once in 2016, by 25 basis points; Chinese economic growth drops below 5 percent as "banks get in trouble;" and oil languishes in the $30s.
"Slow growth around the world is the major factor" for oil, Wien said. "But additional production from Iran and the unwillingness of Saudi Arabia to limit shipments also play a role. Diminished exploration and development may result in higher prices at some point, but supply/demand strains do not appear in 2016."
The 82-year-old former Morgan Stanley senior strategist was right in his call for long-term Treasury rates to stay little changed in 2015. Yields on 10-year Treasury notes ended the year at 2.27 percent, compared with 2.17 percent 12 months ago. He missed the rally in European and Japanese stocks while his optimism on U.S. equities proved misplaced. The S&P 500, for which he had forecast a 15 percent surge, slipped 0.7 percent last year, trailing a 6.8 percent gain in the Stoxx Europe 600 Index and a 9.1 percent advance in the Nikkei 225 Stock Average.
Before it's here, it's on the Bloomberg Terminal.
LEARN MORE