China's Two-Speed Economy Stays Intact as Factories Slump, Services Gain
Bloomberg News
Official PMI and Caixin's gauge both miss economist estimates

Services industry indicator climbed to highest in 16 months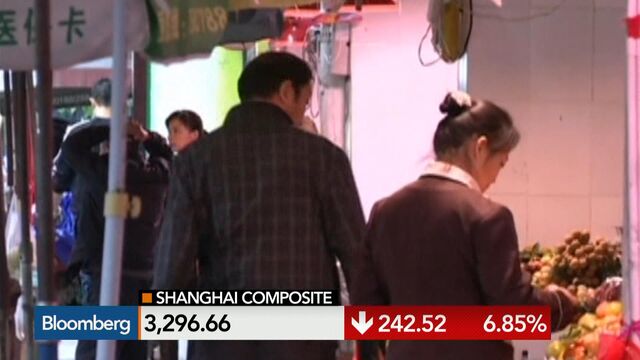 China's economic rebalancing remained intact as the first economic reports of 2016 signaled manufacturing weakened for a fifth straight month, the longest such streak since 2009, while a gauge of services rose to the highest level in more than a year. 
The official purchasing managers index edged up to 49.7 last month from a three-year low of 49.6 in November, the National Bureau of Statistics said Friday. The Caixin China Manufacturing PMI index released Monday showed a drop to 48.2 last month from 48.6. Both factory gauges were less than the median estimates in Bloomberg surveys. The official non-manufacturing PMI rose to a 16-month high of 54.4. Numbers below 50 indicate deterioration.
The benchmark China stock index tumbled almost 7 percent and the yuan slumped after the signs of further weakness in manufacturing, a reflection of sliding exports thanks to sluggish growth abroad, and of overcapacity at home.
"The readings still signal a two-speed economy," said Rajiv Biswas, the Asia-Pacific chief economist at IHS Global Insight in Singapore. Excess heavy manufacturing capacity, including steel and shipbuilding, will likely "keep Chinese manufacturing sector growth momentum constrained in 2016."
Policy makers looking ahead to the new year are faced with old economic drivers that still aren't showing any signs of a pick-up even amid fresh indications of strength in the new ones, despite six People's Bank of China interest-rate cuts and stepped up fiscal stimulus. The sweeping shift of the world's second-largest economy is a long-sought transition away from investment and manufacturing toward consumption and services.

The Shanghai Composite Index of stocks fell 6.9 percent for the steepest retreat since August. The offshore yuan declined 0.6 percent to a five-year low.
The selloff spread on concern China's slowdown will hamper the global recovery, with the Stoxx Europe 600 Index falling 2.9 percent as of 12 p.m. London time. U.S. stock-index futures also declined.
While the official manufacturing PMI showed improvement on both the supply and demand sides, downward pressure remains significant, the statistics bureau said in a statement released with Friday's data. Some manufacturers' operations were affected by declining crude oil prices, continuous drops in the wholesale and raw material purchase price indexes, as well as tightening liquidity at the end of the year, according to the NBS.
The increase in December lifted the manufacturing gauge from the lowest level since August 2012 and brought the average reading for 2015 to 49.9, which is below the 50.7 average for the past five years. Last year's PMI high of 50.2 in May and June was about the same as the lowest levels of 2013 and 2014.
"The improvement in the index suggests growth momentum has continued to stabilize, in part due to the government's stimulus efforts," Fielding Chen, an economist at Bloomberg Intelligence in Hong Kong, wrote in a note. "Nevertheless, another reading below the 50 threshold that separates expansion and contraction suggests the economy stays broadly weak."
The stabilization suggests that while the government likely achieved its 2015 growth target, the economy faces "substantial downside risks," and top officials have already signaled their intention to implement more accommodative policies in 2016, Chen said.
Some manufacturing sub-gauges showed positive signs. Output rose to 52.2 from 51.9 in the prior month, while new orders were 50.2, up from 49.8 in November, the NBS said. On the services side, Friday's PMI release showed new orders climbed to 51.7, the highest since May 2014, from 50.2. Employment picked up, as did a gauge of prices charged.
China's leaders say 2015 growth can meet their target of about 7 percent, and they signaled after a key planning conference last month they'll do more to prevent a sharp slowdown, including widening the fiscal deficit and cutting an oversupply of housing.  Communist Party officials affirmed in their 2016 policy statement that they'll step up supply-side reforms such as dealing with overcapacity, the official Xinhua News Agency reported.
Even if officials can deliver 7 percent growth, that would still be the weakest full-year expansion since 1990. The gross domestic product report for 2015, due for release Jan. 19, will show a 6.9 percent expansion, according to the median of estimates in a Bloomberg survey. Forecasters see 6.5 percent growth this year and 6.3 percent in 2017.
President Xi Jinping has said GDP gains in the next five years should average at least 6.5 percent per year. Top researchers at China's central bank said last month they expect economic growth to come in at 6.8 percent this year, while the top government-backed research organization recently said 2016 growth will slow to between 6.6 and 6.8 percent.
"Growth may weaken again in the first quarter of the year, and bumpy growth deceleration will likely continue for the full year of 2016," Goldman Sachs Group Inc. researchers led by senior China economist MK Tang in Hong Kong said in a report Friday. "We expect supportive policy measures to provide a key buffer to growth deceleration."
— With assistance by Jeff Kearns
Before it's here, it's on the Bloomberg Terminal.
LEARN MORE