John Angelo, Who Co-Founded Angelo, Gordon & Co., Dies at 74
by
New York investment firm manages about $26 billion for clients

Angelo built career on distressed securities, arbitrage funds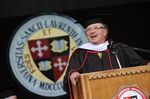 John Angelo, who co-founded Angelo, Gordon & Co. and presided 27 years over the New York investment firm's growth to $26 billion in assets under management, has died. He was 74.
He died Jan. 1 after a long fight with cancer, according to an e-mail statement to employees from Michael Gordon, the firm's other co-founder, on Jan. 2.
"John was one of the most forward-looking people I have known, and a driving force in achieving success for our clients and for us," Gordon said. "We will all miss him."

Angelo, the firm's chief executive officer, started the company with Gordon after an 18-year career with L.F. Rothschild & Co. in which he specialized in convertible securities, options, futures and distressed securities, according to a biography on Angelo, Gordon's website.
Gordon is the chief investment officer of the firm, which has more than 143 investment professionals. Lawrence Schloss joined in 2013 as president.
Sotheby's Leadership
Angelo served on the board of directors of Sotheby's,  the New York-based auctioneer, since 2007.
"John was a great man who brought incredible energy and wisdom to Sotheby's, and we were fortunate to benefit from his leadership and financial expertise over the past eight years," Domenico De Sole, chairman of the Sotheby's board, said in an e-mailed statement. "As a passionate and discerning art collector, John's insights were also invaluable to Sotheby's."
A New York native, Angelo graduated from St. Lawrence University in Canton, New York, in 1963 and met his future wife, Judy Hart, after returning to New York City, he said during a commencement speech at the school in May 2015. Angelo had seen Hart, a singer, perform at a concert on campus and was introduced to her through his longtime friend Michael Eisner, who went on to become the CEO of The Walt Disney Co., and Eisner's girlfriend and future wife Jane Breckenridge.
Angelo and Hart met in 1965 and married two years later, according to his speech.
'Stay Ahead'
Angelo began his finance career in 1966, working on the bond floor at the New York Stock Exchange, according to his biography on the firm's website. He was recruited to Bear Stearns in 1970 to handle a type of arbitrage, he said in his commencement address, a line of business that went away a few years later with the advent of faster communications.
He worked with Gordon at L.F. Rothschild, where Angelo became a partner in 1975, and vice chairman and a member of the board of directors 10 years later. Angelo and Gordon left L.F. Rothschild in 1988 after the investment banking firm was hurt by the 1987 stock market crash.
In his speech to St. Lawrence graduates last May, Angelo noted that his career had been marked by "creative destruction" as new technologies and ways of doing business overtook old ones.
"The best example is the smartphone which destroyed the market for the cellphone, point-and-shoot cameras, wrist watch, calculators, voice recorders, and I could keep going," he told students. "In life you have to keep moving to stay ahead. Don't stand still."
'Driving Force'
Angelo lived by those words, Gordon said in his e-mail to employees. Gordon said the firm is on a "strong footing" and remains rooted in the principles of "family, ethics and decency."
"John was one of the most forward-looking people I have known, and a driving force in achieving success for our clients and for us," Gordon wrote.
Angelo is survived by his wife, Judy, and their three children: Jack, Jesse and Kate.
Under John Angelo, the investment firm anticipated trends by building a business to meet the financing needs of North American energy companies and by investing early in Manhattan's Chelsea Market, which helped transform the Meatpacking District, said son Jesse Angelo, the CEO of News Corp.'s New York Post.
"He could certainly be demanding of his employees, and was famously funny and acerbic, but he also genuinely viewed Angelo Gordon as an extended family and wanted people to have fun there," the son wrote in an e-mail. "The firm often does holiday parties with games and treats for kids so everyone can bring their families, they had a firm baseball game on the field at Yankee Stadium, and have an annual office Olympics that is ridiculously competitive."
(An earlier version of this story corrected the date of Angelo's death.)
Before it's here, it's on the Bloomberg Terminal.
LEARN MORE