Khamenei Warns of Repercussions for Saudi Cleric's Death
by and
Nimr al-Nimr, dissident Shiite cleric, among 47 executed

Iranian protesters attack Saudi embassy, set building on fire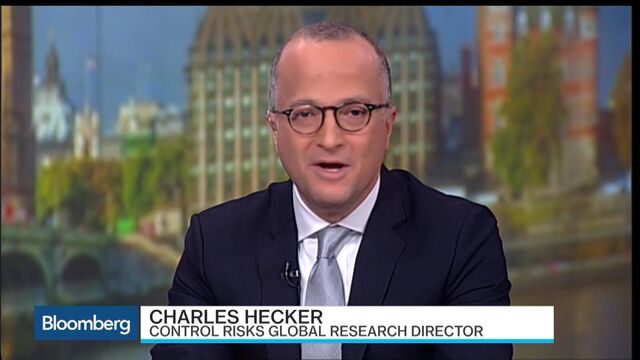 Iran's Supreme Leader Ayatollah Ali Khamenei said Saudi rulers will face repercussions after the kingdom executed an outspoken Shiite cleric.
"The divine hand of revenge will take the Saudi politicians by the throat," Khamenei, Iran's highest authority, said on Sunday. Cleric Nimr al-Nimr "was neither encouraging people to armed protests, nor plotting secretly, all he did was to openly criticize," said Khamenei, who frequently lashes out at Saudi rulers.
Iranian protesters armed with rocks and firebombs attacked the Saudi embassy in Tehran on Saturday and set parts of the building on fire after the execution of al-Nimr, a critic of the kingdom's treatment of its Shiite minority. A small group stormed the premises and several people were arrested, Tehran police chief Hossein Sajedinia told the state-run Islamic Students' News Agency.
Strained Ties
Al-Nimr's execution is the latest crisis to rock ties between Iran and Saudi Arabia, two regional powers vying for everything from political influence to oil markets. With the two countries on opposite sides of conflicts from Syria to Yemen, the rising tension "complicates any peace effort in the region," Ibrahim Fraihat, senior foreign policy fellow at the Brookings Doha Center, said in an interview.
The execution"affirms the message from Saudi leadership to Iran that there are no taboos in this confrontation, and Saudi Arabia will go as far as possible to stop Iranian influence and expansion in the region," he said.
In a sign that Iran may seek to prevent any significant escalation, police closed off streets leading to the Saudi embassy to prevent more protests. President Hassan Rouhani, while condemning al-Nimr's execution, said attacking the embassy was "in no way justifiable." In a statement, al-Nimr's family also urged his supporters to "to have self-control" and to continue "to demand their rights peacefully."
Saudi Accusations
Saudi Arabia accuses Shiite-ruled Iran of seeking to expand its influence in the region through proxy groups such as Hezbollah in Lebanon, the Houthi rebels in Yemen and Shiite groups in Bahrain. Iran denies these charges.
"The statements of the Iranian regime reveal its true face represented in supporting terrorism," a Saudi Foreign Ministry official said in a statement.
The cleric was one of 47 executed on Saturday. The men were convicted of crimes including bombings that targeted the traffic department and interior ministry in Riyadh, plots to attack military airports, and other strikes on security forces.
Some of the attacks happened between 2003 and 2006. The executed were described as promoters of a "deviant" version of Islam, a phrase used by Saudi Arabia for al-Qaeda, Islamic State and other militant groups. The majority were Sunnis.
Mansour al-Turki, a spokesman for Saudi Arabia's Interior Ministry, said the kingdom "doesn't pay attention to external threats or comments made by officials in other countries about judicial measures and procedures in Saudi Arabia."
Threatened to Secede
Al-Nimr was arrested in 2012 and sentenced to death in 2014. In 2009, he threatened to lead Saudi Arabia's Shiite Muslims to secession, provoking a government crackdown in the minority's eastern heartland, the center of the kingdom's oil reserves. Shiites make up 10- to 15 percent of Saudi Arabia's population, according to the CIA World Factbook.
While Saudi Arabia largely escaped the unrest that spread across the Arab world in 2011, the country's minority Shiites, who say they suffer discrimination, have occasionally protested and fought with security forces. Islamic State militants have exploited this fault line, striking Shiite mosques last year.
Institutionalizes Tension
For Saudi rulers, the execution "institutionalizes tension in Saudi Arabia by creating a symbol for Shiite grievances," Fraihat said. "Not many people in the past saw him as the representative of the Shiite community but now he has become one of the symbols of the tension between Shiite and Sunnis."
In a meeting with U.S. diplomats in 2008, al-Nimr sought to distance himself from Tehran, according to a cable released by Wikileaks. Iran, like other countries, acts in self-interest and Saudi Shiites shouldn't expect Iranian support based on sectarian unity, he said, according to the diplomatic cable. The report describes him as a "second-tier political player" in the Eastern Province.
In a statement after his execution, U.S. State Department said it was "particularly concerned that the execution of prominent Shia cleric and political activist Nimr al-Nimr risks exacerbating sectarian tensions at a time when they urgently need to be reduced." "We have previously expressed our concerns about the legal process in Saudi Arabia and have frequently raised these concerns at high levels of the Saudi government," spokesman John Kirby said.
The punishments were carried out in 10 provinces, Saudi Arabia's interior ministry said in a statement published on Saturday by the official Saudi Press Agency. While most of the convicted men were Saudi citizens, an Egyptian and a Chadian national were among those executed. Some of the men were shot by a firing squad and some were beheaded, a ministry spokesman said on Al-Arabiya TV.
Before it's here, it's on the Bloomberg Terminal.
LEARN MORE