'Star Wars: The Force Awakens' Is Still the No. 1 Movie in America
Anousha Sakoui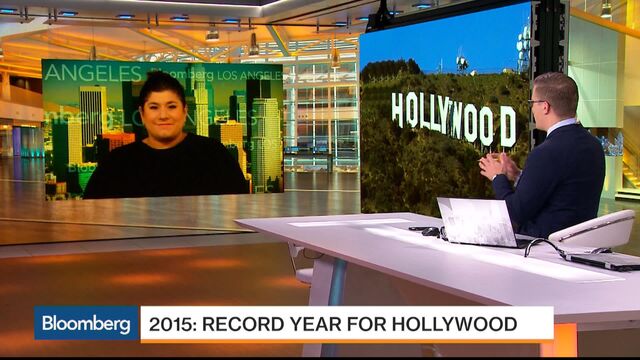 "Star Wars: The Force Awakens" led the North American box office for a third straight weekend as Walt Disney Co.'s revival of the beloved space-adventure series continues to pull in fans.
"The Force Awakens" generated $88.3 million in sales in U.S. and Canadian theaters, for a domestic total so far of $740.3 million, researcher Rentrak Corp. said Sunday in a statement. Disney said the global total reached $1.51 billion. Quentin Tarantino's "Hateful Eight," a Weinstein Co. film that expanded nationwide, collected $16.2 million and placed third.
There's little standing in the way of "Star Wars," suggesting it could hold the lead next week and maybe beyond. The performance gives theater operators a strong kickoff to 2016, following a year when North American ticket sales topped $11 billion for the first time. Disney has another "Star Wars" film, a standalone feature, slated for December 2016.
"They should make a reservation in the $2 billion club, because Star Wars is on the way," Paul Dergarabedian, senior analyst at Rentrak, said in a phone interview, referring to total global sales for the movie. "They've been extraordinarily successful with this release, really a pitch-perfect strategy for this movie and it's just continuing to pay dividends now and going forward."
As of Dec. 30, "The Force Awakens" had overtaken Disney's 2013 hit "Frozen" to become No. 8 in global sales, Rentrak said. It's also in reach of the $760.5 million domestic record set by "Avatar."
The "Star Wars" movie contributed to record worldwide film receipts of more than $38 billion in 2015, Rentrak said.
"The Force Awakens," featuring a new cast of young actors alongside the original stars, missed the weekend forecast of $98 million by analysts at BoxOffice.com. Still, the tally was high enough to break the $64.5 million record for a third weekend set by "Avatar."
The movie has enjoyed mostly positive reviews. One critic was George Lucas, who created "Star Wars" and sold his company to Disney for $4 billion. On a show that aired Christmas Day, he told interviewer Charlie Rose that the new movie was too "retro" for his tastes.
Written and directed by Tarantino, "The Hateful Eight" is the filmmaker's eighth movie. It missed BoxOffice.com's forecast for $25 million on its nationwide debut.
The R-rated western features Kurt Russell as John Ruth, a bounty hunter transporting fugitive Daisy Domergue, played by Jennifer Jason Leigh, to Red Rock where he will bring her to justice.
Along the way they meet Major Marquis Warren, a black former union soldier turned infamous bounty hunter played by Samuel L Jackson, and Chris Mannix, a Southern renegade who claims to be Red Rock's new sheriff. Caught in a blizzard, they seek refuge in a haberdashery where a battle unfolds. The film was well received by critics, with 75 percent positive reviews, according to Rottentomatoes.com. It's already on receiving end of Oscar buzz.
"Tarantino writes like a flamethrower in this western whodunit," Peter Travers wrote in Rolling Stone. "He brings the war home, baby, with all the political, geographical, social, sexual and racial implications we're still wrangling with today."
Among returning films, the Paramount Pictures' comedy "Daddy's Home" placed second with $29 million in ticket sales. Weekend sales for the top 10 films rose 56 percent to $196.8 million from a year earlier, Rentrak said. The following table has U.S. box-office figures provided by studios to Rentrak. The amounts are based on actual ticket sales for Jan. 1 and Jan. 2, and estimates for Sunday.
                    Rev.    Pct.             Avg./  Total
 Movie             (mln)    Chg. Theaters  Theater  (mln)   Wks
================================================================
 1 Star Wars       $88.3    -41    4,134   $21,359  $740.3   3
 2 Daddy's Home     29.0    -25    3,342     8,677    93.7   2
 3 Hateful Eight    16.2    252    2,474     6,564    29.6   2
 4 Sisters          12.6    -11    2,978     4,225    61.7   3
 5 The Chipmunks    11.8    -10    3,474     3,397    67.4   3
 6 Joy              10.4    -39    2,924     3,557    38.7   2
 7 Big Short, The    9.0    -15    1,588     5,668    33.0   4
 8 Concussion        8.0    -24    2,841     2,816    25.4   2
 9 Point Break       6.8    -30    2,910     2,352    22.4   2
10 Hunger Games      4.6    -12    1,485     3,114   274.2   7



Top 10 Films Grosses



     This Week     Year Ago    Pct.
     (mln)         (mln)       Chg.
===================================
     $196.8        $125.9      +56



Year-to-date Revenue



     2016          2015
     YTD           YTD        Pct.
     (mln)         (mln)      Chg.
===================================
     $220          $177       +25

Source: Rentrak Corp.
Before it's here, it's on the Bloomberg Terminal.
LEARN MORE