Taiwan Voters Want Government That Listens, Tsai Says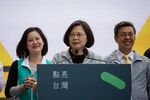 Taiwan's electorate wants a change in government because the ruling administration doesn't listen to the people, said Tsai Ing-wen, the frontrunner in Taiwan's presidential election taking place this month.
Tsai, chairwoman of the opposition Democratic Progressive Party, pledged to reform the efficiency of the island's government and ensure transparency, during a two-and-a-half-hour debate Saturday with Eric Chu of the ruling Kuomintang as well as People First Party candidate James Soong.
She pledged to set up four mechanisms if elected: one for political parties to negotiate, one for industrial policy to boost economic growth, one for a pension-system reform by consensus, and one for the government to communicate with China and other countries.
Taiwan's relations with China have come under the spotlight as the democratically ruled island prepares to choose a successor Jan. 16 to President Ma Ying-jeou, whose rapprochement policy culminated in a first-of-its-kind meeting with Chinese President Xi Jinping in November. Public opinion polls show Tsai, whose party officially supports independence, holding a wide lead.
The Kuomintang's Chu asked Tsai why she avoids talking about the Regional Comprehensive Economic Partnership, a proposed free-trade agreement with Asian countries, and to explain her alternative to the '92 Consensus, the broad agreement made with China in 1992.
China's Communist Party, which still considers Taiwan a province, passed a law in 2005 allowing an attack if the island formalizes the split.
Taiwan should drop hostility toward China and seek cooperation and peace in cross-strait relations, Chu said. Tsai said her party has never opposed interaction with China for trade and is instead focused on risk-management of relations with the mainland.
She questioned why many Kuomintang members have what she called "special interests" in China and pledged that she and her family wouldn't invest in China. Tsai also said she would closely monitor officials dealing with cross-strait affairs.
The People First Party's Soong, who trails the other two candidates in opinion polls, said he would help small and medium enterprises boost exports by about NT$300 billion ($9 billion) within four years. He also urged voters to look beyond the fight between the Kuomintang and the Democratic Progressive Party in electing a new president.
(Updates with comments on cross-strait relations in seventh paragraph.)
Before it's here, it's on the Bloomberg Terminal.
LEARN MORE