Fresh Gunfire at India's Punjab Air Base Boosts Death Toll
By and
Clash follows raid that happened in early hours of Saturday

Seven Indian security personnel dead, about 20 injured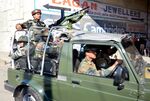 Fighting broke out again at the Pathankot airforce base in northern India on Sunday, bringing the death toll to at least eleven since gunmen stormed the site before dawn on the previous day.
Seven Indian security personnel have been killed, and about 20 injured over the past two days, India's Home Secretary Rajiv Mehrishi said at a press conference in New Delhi. Four gunmen were killed by Indian forces at the base in the state of Punjab yesterday. At least two terrorists are at large, and operations are going on to nab them, according to Mehrishi.
The attack comes a week after Indian Prime Minister Narendra Modi made a surprise visit to Pakistan in a bid to accelerate peace talks between the nuclear-armed neighbors. The gunmen had crossed over from Pakistan and the terror group Jaish-e-Mohammed may be responsible, Mehrishi said.
"Due to the active intelligence inputs and advance information, and the quick action taken by the security forces, especially the airforce, we have been able to ensure there is no damage to the assets of the air force," Mehrishi said. "The apparent main aim of the terrorists stands defeated."
Pakistani Condemnation
Pakistan's Foreign Ministry condemned the raid in an e-mail and said it's committed to working with India and other nations to "completely eradicate the menace of terrorism afflicting the region."
While the NDTV news station said the base housed jet fighters and attack helicopters, police said the gunmen didn't get near that part of the airport in the first raid on Saturday.
"We will give a befitting reply to any terrorist attack on our soil," Home Minister Rajnath Singh said in comments broadcast by local television stations on Saturday. India wants "good and friendly relations" with Pakistan, he added.
India blamed Pakistan for an incident in July in which six people were killed in Punjab as four gunmen dressed in army uniforms attacked a bus station and a police complex. The raid on Saturday happened even as Punjab was placed on a state of high alert on Friday after suspected Pakistani terrorists kidnapped a senior police officer, the Press Trust of India reported, citing Senior Superintendent R. K. Bakshi.
India and Pakistan have tried to minimize tensions since an attack in Mumbai in 2008, when gunmen targeted two luxury hotels, the main railway station, a cafe and a Jewish center, killing more than 160 people. India, which said that the incident was orchestrated in Pakistan, has accused its neighbor of using terrorism to achieve foreign-policy goals. Pakistan has said normal relations can be restored only when the dispute over the divided state of Kashmir is resolved.
For Related News and Information:
Top Stories: TOP