New York Raises Stakes in Daily Fantasy Sports Sites Battle
by
Schneiderman files new complaint seeking return of money

DraftKings says attorney general doesn't understand game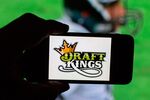 The new year brings no sign of letup in the battle between New York Attorney General Eric Schneiderman and daily fantasy sites DraftKings Inc. and FanDuel Inc.
Just hours before the calendar turned, Schneiderman on Thursday filed a new complaint in his legal battle against the two companies seeking the return of all money they've made in New York. That demand comes on top of his earlier request that the sites be forced to close.
DraftKings didn't back down, saying Schneiderman "still does not understand fantasy sports." The company's lawyer, David Boies, said in the statement that "everyone who plays fantasy sports knows they are games of skill."
Last month, a state appeals court said DraftKings and FanDuel can continue doing business in New York for now, after it halted a trial judge's order to temporarily stop games in the state. The appeals court is now weighing the entire issue.
Threatened Future
The trial judge's Dec. 11 decision potentially choked off the sites' largest market and threatened the future of companies that as recently as September boasted valuations of more than $1 billion.
New York argues the business constitutes illegal gambling under state law because the outcome of the contests depends mostly on chance and factors outside of a player's control. The sites say their games are contests of skill, in which a player acts as a general manager and selects a team that doesn't exist in real life.
The new complaint also seeks an "accounting of monies collected from consumers in New York."
"As one of New York's fastest growing startup companies we are thoroughly disappointed in the attorney general's ongoing actions and will fight this meritless, amended suit until fantasy sports are safeguarded for all sports fans," a FanDuel spokesperson said in an e-mailed statement.
The cases are FanDuel Inc. v. Schneiderman, 161691/2015; DraftKings Inc. v. Schneiderman, 102104/2015; Schneiderman v. DraftKings Inc., 453054/2015; and Schneiderman v. FanDuel Inc., 453056/2015, all in New York State Supreme Court, New York County (Manhattan).
Before it's here, it's on the Bloomberg Terminal.
LEARN MORE