Munich Police Probe Terror Links as Railroad Stations Reopened
by
Foreign security agencies warned Germany of Islamic State plot

Police haven't made arrests yet, names of some suspects known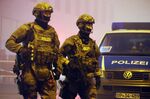 Munich police remain on high alert after foreign security agencies warned Germany of a suicide terror plot by Islamic State militants before the New Year's holiday. The Bavarian capital's main railroad station and a train hub in the city's Pasing district were evacuated for about five hours overnight to thwart an attack.
The group of suspected terrorists consisted of five to seven persons, Munich police chief Hubertus Andrae said at a press conference Friday. Warnings regarding the plot included a scenario of attacks with automatic rifles similar to the Paris killings in November.
"After intensive investigations we can say that we don't have any insights about these individuals," Andrae said. "Measures haven't led to any concrete evidence for the warnings, that's why we could reopen the stations for traffic."
The alerts came as cities across Europe tightened security after the Nov. 13 terrorist assaults in Paris that left 130 people dead. Brussels canceled its fireworks display and other festivities due to a "significant" risk of a New Year's Eve attack.
Munich authorities said the names of several suspects were provided to them, though no arrests have been made since the would-be attackers' whereabouts remain unknown. According to Bayerischer Rundfunk, the warnings came from French and U.S. intelligence agencies.
The evacuations of the Hauptbahnhof central station and the Pasing hub started about 10:40 p.m. on Thursday, involving about 550 police officers.
German Interior Minister Thomas de Maiziere said security agencies still see a high threat level from international terrorism and will continue to evaluate the situation accordingly.
Before it's here, it's on the Bloomberg Terminal.
LEARN MORE