Einhorn's Greenlight Fund Ends Second-Worst Year Down 20%
by
New York-based firm's main vehicle plunged 23% during 2008

Money manager gained 0.4% in December, investors are told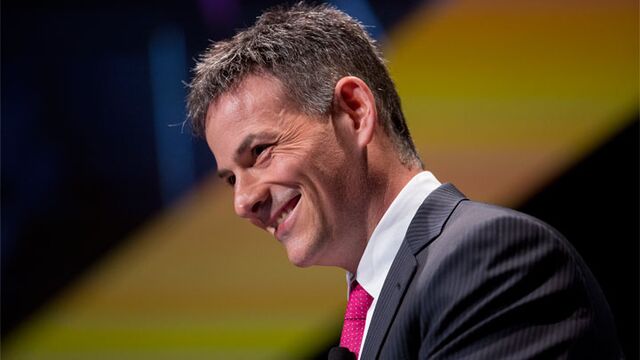 For David Einhorn, 2016 can't start soon enough.
His main Greenlight Capital hedge fund gained 0.4 percent in December, bringing its 2015 loss to 20 percent, according to an e-mail to investors that was obtained by Bloomberg.
It was only the second losing year in Greenlight's almost 20-year history. The last annual decline came in 2008, when the fund fell 23 percent.
Jonathan Gasthalter, a spokesman for New York-based Greenlight with Sard Verbinnen & Co., declined to comment.
Einhorn's hedge fund was beset by wrong-way bets on SunEdison Inc., Micron Technology Inc. and Consol Energy Inc. The firm doubled down on its Consol wager in November through purchases of total return swaps, according to filings with the U.S. Securities and Exchange Commission. Shares of the natural gas and coal company fell 19 percent in the fourth quarter.
GM, Keurig
Four of the firm's five largest disclosed long positions at the end of the third quarter dropped in the last three months of the year. Apple Inc. and Japan's Resona Holdings Inc. lost 4.6 percent and 2.5 percent, respectively, while the price of gold slumped almost 5 percent as of 4:30 p.m. Friday in New York. General Motors Co. rose 13 percent.
A bet that shares of specialty coffee maker Keurig Green Mountain Inc. would fall, described in an October letter as Greenlight's third-most profitable position in 2015, may have been dimmed on Dec. 7 when an investor group led by JAB Holding Co. said it would spend $13.9 billion to buy the company. The shares more than doubled in price from a Nov. 17 low to close at $89.98 on Dec. 31.
The average hedge fund trailed the Standard & Poor's 500 Index for the seventh straight year in 2015, according to preliminary data compiled by Chicago-based data provider Hedge Fund Research Inc. The S&P 500 including reinvested dividends rose 1.4 percent in 2015, while the HFRX Global Hedge Fund Index dropped 3.5 percent through Dec. 30.
Before it's here, it's on the Bloomberg Terminal.
LEARN MORE