Munich Evacuates Rail Hubs Over New Year's Islamic State Threat
by
Main train station, Pasing reopened about five hours later

German authorities cited credible threat on main train station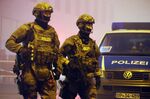 Munich police evacuated two train stations before the New Year's holiday amid warnings of an imminent terrorist attack by Islamic State militants. The hubs were reopened about five hours later, and police said their investigation was continuing.
The police, who tweeted the warning at 10:40 p.m. local time Thursday, advised people to avoid the central Hauptbahnhof transport hub, as well as another railway station in the Bavarian capital's Pasing district. The suspected terrorist plot targeting Munich's main train station was intended as a suicide attack, Deutsche Presse-Agentur reported, citing city police chief Hubertus Andrae.
Citing information received from an allied intelligence service, Bavarian state Interior Minister Joachim Herrmann said the threat was linked to the Islamic State militant group, according to DPA.
About 550 police had been mobilized and police recommended people stay vigilant. While concerns peaked before midnight, they've since eased, Andrae said, according to DPA.
The warning comes as cities across Europe tighten security in the aftermath of the Nov. 13 terrorist assaults in Paris that left 130 people dead. Brussels canceled its fireworks display and other festivities earlier in the day due to a "significant" risk of a New Year's Eve attack.
Before it's here, it's on the Bloomberg Terminal.
LEARN MORE