Indonesian Court Rejects Forest Fire Case in Haze Battle Setback
by and
District court throws out government suit against pulp company

Environment Ministry says plans to appeal court ruling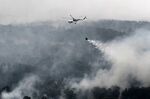 An Indonesian court threw out a government suit against a pulpwood plantation company for alleged damage from illegal burning, another setback for President Joko Widodo as he seeks a permanent solution to annual forest fires that have caused dangerous haze across Southeast Asia.
A district court in southern Sumatra rejected the suit seeking 7.8 trillion rupiah ($565 million) from PT Bumi Mekar Hijau, the Straits Times reported Thursday, citing court proceedings. The chair of a three-judge panel ruled there was no evidence the company caused environmental damage in 2014 by deliberately starting fires, the paper said.
The government will appeal the ruling, potentially to the Supreme Court, Environment and Forestry Ministry spokesman Eka Soegiri said by phone. "Whilst we respect the decision of the district court, we have a responsibility to the people of Indonesia and also the world, because these fires have become an international issue."
An annual phenomenon, smog from illegal burning in the tropical forests of Sumatra and Borneo this year was exacerbated by dry conditions from El Nino. The resulting haze blanketed Singapore, parts of Indonesia, Malaysia and Thailand in September and October, shutting schools and forcing people to flee their homes.
Indonesian authorities have struggled for years to prevent the fires, hampered by a decentralized system of government that has created a web of opaque land ownership rules and potentially made it harder to tackle corruption at the local level. Widodo, better known as Jokowi, has pledged to tackle some of the broader factors behind the haze and directly target companies causing blazes.
"This is a very, very disappointing verdict, especially for the victims of the smoke," Greenpeace Indonesia forest campaigner Teguh Surya said by phone. "Getting the courts to handle environmental crimes is now a big challenge for Jokowi. This is a sign he has to be more serious."
Bumi Mekar Hijau supplies raw materials to Asia Pulp & Paper Co. Singapore's environment ministry said in September this year it had served APP with a notice for information on measures taken by its subsidiaries and suppliers to put out fires on Indonesian land.
APP and its suppliers did not start the forest fires in South Sumatra that were identified as the main source of the 2015 haze, APP chairman Franky Widjaja was quoted previously as saying by the Business Times.
Before it's here, it's on the Bloomberg Terminal.
LEARN MORE