Capital Economics Sees a Wild Ride for Iron Ore as $20s Loom
By
Price may recover to end 2016 above $50 a ton, Bain predicts

Higher-cost mines in China will close, Capital Economics says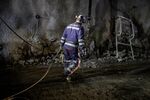 Iron ore may be in for a roller-coaster ride next year as prices swoon into the $20s, then rally to end higher after three annual losses, according to Capital Economics Ltd.
The ore may initially drop as low-cost supplies rise further, helping the top producers to expand market share, according to Caroline Bain, the forecaster's London-based senior commodities economist, who correctly predicted in June that prices would sink into the $30s this half.
"We have a modestly higher price for iron ore of just over $50 by end-2016 but that does not rule out prices falling below $30," Bain said by e-mail. "In fact, it might be necessary in order to get to our higher price target."
Iron ore has been pummeled yet again over 2015 as the world's largest miners including Rio Tinto Group and BHP Billiton Ltd. in Australia and Brazil's Vale SA raised low-cost output while demand stalled in China. Goldman Sachs Group Inc. has said the commodity will probably remain under $40 for the next three years as the slowdown in China, where steel consumption is contracting, forces the global industry into hibernation.
'So Cheap'
"It is hard to see the Big Four cutting production by much, although they are unlikely to be investing in expansion or new projects," Bain said, referring to Rio, BHP, Vale and Fortescue Metals Group Ltd. "But we think production elsewhere -- notably in China -- will be cut at current prices or lower. We expect the Big Four to continue to take market share in China as the iron ore is higher quality and it is now so cheap."
Iron ore has lost 39 percent this year, extending 2014's 47 percent plunge and the 8.3 percent retreat in 2013, according to Metal Bulletin Ltd. data. Since bottoming at $38.30 a dry ton on Dec. 11, the lowest in daily price data going back to May 2009, ore with 62 percent content delivered to Qingdao has climbed back to $43.57.
While iron has slumped in 2015, prices remain above levels seen in recent decades. The commodity traded as low as $10.51 a ton in 1988, when annual contracts were negotiated between top miners and some mills, International Monetary Fund data show. That system was superseded by a shift to spot rates as China's demand ballooned, a situation that's now gone into reverse.
'Hard to See'
Ore may average about $50 next year as only low-cost producers will remain, according to Michael Zhu, president of Hong Kong-based trader Millennia Resources Ltd. "It's hard to see the price dropping to below $30 next year, it may happen at some moment, but will not last long," said Zhu, former global sales director at Vale.
The largest producers are betting that higher volumes will help them to cut costs and build market share while smaller miners shut. Andrew Harding, head of Rio's iron ore business, said in November if the company cut supply, volumes would be taken by less efficient rivals. Vale Chief Financial Officer Luciano Siani said this month the company will lower break-even costs so it can deliver cash flows even if prices fell to $30, according to a transcript.
More supplies are set to enter the market. Shipments from Australia will rise about 100 million tons next year to 868 million tons, the government has forecast. The outlook cited expansions by producers as well as volumes from billionaire Gina Rinehart's Roy Hill mine, which began exports this quarter.
The selloff has hurt miners' shares. BHP ended 1.3 percent lower at A$17.86 in Sydney on Thursday, taking losses this year to 35 percent, while Rio has dropped 23 percent and FMG has fallen 32 percent. In Brazil, Vale stock is 47 percent lower in 2015.