Brussels Cancels New Year's Eve Festivities Over Terror Threat
by and
Mayor cites `significant' risk of attack targeting crowds

Belgian authorities charge 10th suspect in Paris investigation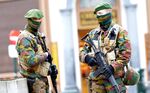 Brussels canceled its New Year's Eve fireworks display and other festivities because of a "significant" risk of a terrorist attack as authorities detained a 10th person suspected of being involved in the Paris massacre last month.
The decision to call off the ceremonies in the Belgian capital came after federal prosecutors said on Tuesday they had uncovered "serious threats" of a holiday terrorist strike.

Yvan Mayeur, the city's mayor, told RTL television Wednesday night that the national crisis center had determined there was a "significant" risk of a terrorism event around the New Year's Eve celebrations targeting crowds. Separately, prosecutors announced they had arrested a Belgian citizen, identified as Ayoub B., who was charged with terrorist murder and participation in the activities of a terrorist organization.
"The police will still be deployed in force in the city center" on Thursday, Mayeur said. "This certainly does not mean everything is closed."
The government raised the threat level in Brussels to a "4" last month -- an indication that an attack was "serious and imminent" -- after the Nov. 13 terrorist assaults in Paris that left 130 people dead. Authorities closed schools, shopping centers and the subway network and advised cafes to shut early and told people to avoid large gatherings. That threat level was lowered on Nov. 26.
Terrorist Arrests
Belgian police arrested two people on Tuesday suspected of planning terrorist attacks in Brussels during the New Year's celebrations. The two were held after raids on Sunday and Monday in and near Brussels and in eastern Belgium, federal prosecutors said.
Authorities uncovered "serious threats of attacks targeting several symbolic sites in Brussels which would be committed during the New Year's festivities," according to the prosecutors' statement.
Further raids were conducted Thursday morning in which seven houses were searched in the neighborhoods of Molenbeek, Anderlecht, Laken and Sint Pieters Leeuw, with six people taken in for questioning. Three were released Thursday evening, and the three others will be held overnight, the prosecutor's office said.
The Tuesday arrests weren't connected with the investigation into the Paris massacre, according to the statement. Belgium has now charged 10 suspects with complicity in the Paris assaults.
The suspension of festivities in Brussels came as Paris increased security around its own New Year's Eve celebrations. Turkish police detained two suspected suicide bombers in Ankara, according to a report on TV24.
Threat Level
"The cancellation shouldn't have a significant impact on the tourist attendance since it's an event that attracts a predominantly local audience," Patrick Bontinck, director of tourist bureau Visit.Brussels, told Le Soir newspaper. "Raising the threat level again would have had a catastrophic effect on tourism."
New Year's celebrations will go ahead as planned in other Belgian cities, including Antwerp, Ghent and Bruges, with heightened security, according to Belgian media. The Brussels Christmas market, which runs through Jan. 3, will be open as scheduled, Belga reported. The market, including a skating rink and amusement rides, will remain accessible to visitors until Sunday.
"The cancellation perhaps isn't a good idea -- it's bad for sentiment and for business," Jean-Marie Dewandeleer, vice president of the Brussels restaurant industry federation, told Le Soir. "It's not as much the cancellation of the fireworks that's serious: it's more the climate of anxiety that it helps to reinforce."
Belgian Prime Minister Charles Michel told broadcaster RTBF Wednesday night that it was a "difficult decision" by the mayor to cancel this year's festivities. "But given the information reaching us, this decision seems right," Michel said.
This is not the first time Brussels has canceled the New Year's fireworks show due to a terror threat. In 2007, the cancellation was linked to a terror alert announced on Dec. 21 because of a suspected attempt to free Nizar Trabelsi, an al-Qaeda sympathizer jailed in 2003 for plotting an attack on a North Atlantic Treaty Organization base.
Before it's here, it's on the Bloomberg Terminal.
LEARN MORE