Belgium Charges 10th Suspect in Probe of Paris Terror Attacks
Jones Hayden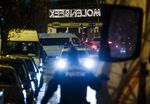 Belgian authorities charged a 10th suspect in the probe of the Nov. 13 terrorist attacks in Paris, the federal prosecutor's office said.
The suspect, a Belgian national identified as Ayoub B., was detained after a house raid in the Molenbeek district on Dec. 30, the prosecutors said on Thursday in a statement. About 10 mobile phones were seized in the search and are being examined, the authorities said. No weapons or explosives were found.
The arrest came as Brussels canceled its New Year's Eve fireworks show and other festivities after prosecutors uncovered "serious threats of attacks targeting several symbolic sites" during the New Year's period. Belgian police on Tuesday arrested two other people suspected of planning terrorist attacks in Brussels during the New Year's celebrations.
The prosecutors said on Thursday that Ayoub B., born in 1993, was charged with terrorist murder and participation in terrorist activities. He will appear in court within five days for a decision on prolongation of his detention, they said.
Before it's here, it's on the Bloomberg Terminal.
LEARN MORE