The Floods of Five Rivers Heading for the U.S. Industrial South
by and
Floods across the U.S. Midwest are heading toward Louisiana

Water in industrial South may start cresting in mid-January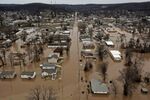 Brace yourself, U.S. South. The Mississippi River is coming, and so are the Arkansas, the Red, the Ohio and the Missouri.
The water on the Mississippi River is already so high that Missouri closed some interstate highways. Governor Jay Nixon activated the National Guard. And Kinder Morgan Inc. shut two storage terminals near St. Louis, declaring a force majeure that protects it from liability for contracts that go unfulfilled for reasons beyond its control.
The floods only stand to get worse, threatening to reach the Gulf Coast within weeks and disrupt operations at industrial complexes. Warmer-than-usual weather through December has precipitation falling as rain. Some areas have seen 5 to 10 inches (12 to 24 centimeters) above normal flowing into the rivers instead of being locked up as snow and ice on solid ground until spring. Flooding on the lower Mississippi may become severe enough to force the opening of the Bonnet Carre Spillway protecting New Orleans, according to the Lower Mississippi River Forecast Center.
"It is very unusual," said Jeff Graschel, a hydrologist at the forecast center, an arm of the National Weather Service. "We have a pretty significant flood event over the Mississippi and Ohio rivers. The magnitudes are a little less than 2011."
Flood Stage
In other words, this year's water levels are just shy of modern records. Four years ago, flooding was so severe that Charles Camillo, an Army Corps of Engineers historian, wrote a book about it. Overflowing rivers deluged cities, slowed barge traffic and threatened refinery and chemical plant operations. The only difference is the 2011 flood happened in May.
Today, the Missouri River is at a major flood stage, and it's pouring into an already swollen Mississippi, forecast to reach its second-highest crest at St. Louis around the start of the new year. All of that water will join the Ohio and together flow toward some of the most densely packed industrial river fronts in the country.
"We are going to exceed records for this time of year for the Mississippi and the Ohio," said Graschel, based in Slidell, Louisiana.
The U.S. Coast Guard said Wednesday afternoon that it's closing the Illinois River between mile markers zero and 50 -- a stretch that feeds into the Mississippi north of St. Louis -- beginning at 6 p.m. local time.
Barges, Terminals
Barges on the Mississippi handle about 60 percent of U.S. grain exports entering the Gulf of Mexico through New Orleans, as well as 22 percent of petroleum and 20 percent of coal. Flooding had raised the costs for barge delivery to export terminals in New Orleans by 10 cents a bushel for soybeans and 5 cents for corn since Friday, INTL FCStone Inc. said Tuesday.
Jersey County Grain Co. stopped taking deliveries three days ago in Hardin, Illinois, and has started moving supplies from farmer bins on the east side of the Illinois River in case the levee near Hardin fails, general manager Brad Welch said by phone Wednesday, while adding that the river isn't expected to flow over the levee at this point.
Kinder Morgan shut its Cahokia terminal in Sauget, Illinois, and its Cora terminal in Rockwood, Illinois, company spokesman Richard Wheatley said in an e-mail. It's also reduced operations at its St. Louis Liquids terminal in that city. Cahokia handles chemicals, coal, cement and metals while Cora handles coal and petcoke, according to the company's website.
Missouri already experienced its wettest November since 1989, and the December rainfall there will bring about the highest two-month total since records began in 1895, according to Pat Guinan, the state climatologist at the University of Missouri in Columbia. Preliminary data shows 2015 will be the fourth-wettest in 121 years of data collection, behind 1973, 1993 and 2008, he said in a telephone interview.
"It's going to stay waterlogged because vegetative plants are dormant and evaporation rates are low," Guinan said.
Refineries, Factories
Dow Chemical Co., Archer-Daniels Midland Co. and Valero Energy Corp. are among the companies with refineries, factories and shipping sites along the river. They're all still weeks away from seeing flooding, as Graschel said it isn't forecast to reach New Orleans until the third week of January.
Even after the flood bulge makes its way into the Gulf of Mexico, the vigil will have to continue, he said. There is still a winter's worth of rain and snow coming, in part because of this year's strong El Nino.
"We will certainly have to be more watchful," Graschel said.
Before it's here, it's on the Bloomberg Terminal.
LEARN MORE