Storm Brings Chaos to U.K. as North Braces for More Flooding
by
Thousands left without power in Scotland, others evacuated

More rain forecast Wednesday after army called in over holiday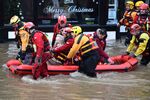 Another storm battered the north and west of the U.K., causing chaos to transportation and leaving thousands of people without electricity or facing more flooding in what's been the wettest December on record for parts of the country.
Areas in southern Scotland and Cumbria in northern England were expecting to get another 100 millimeters (4 inches) of rainfall after Storm Frank made landfall, according to the Met Office. Winds exceeding 60 miles (100 kilometers) an hour hit towns and cities from Northern Ireland to Edinburgh overnight and were forecast to continue into Wednesday afternoon.
As much as 70 millimeters of rain had fallen on parts of Scotland before 9 a.m. local time, the BBC reported. Homes were evacuated in Aberdeenshire in the northwest as the River Dee burst its banks, while Dumfries in the southwest was also at risk of inundation. Among the disruptions to travel on major roads, a stretch of the motorway linking Scotland with England was shut in both directions due to flooding, according to Traffic Scotland.
It's the third major bout of severe weather in recent weeks. Prime Minister David Cameron and Chancellor of the Exchequer George Osborne have faced criticism from opposition parties that his government hasn't spent enough on flood defenses, particularly in the north of the country.
'Bean Counting'
"When we have many parts of our country under water with thousands of people filling sandbags and preparing for the worst, the government can't be seen to be bean counting," the Labour Party's Treasury spokesman, John McDonnell, said in a statement late Tuesday.
U.K. insurers may face claims totaling as much as 1.5 billion pounds ($2.2 billion) for damage caused by Storm Eva and Storm Desmond, according to consultant KPMG LLP. The heavy rain and flooding are estimated to have caused a loss to the economy of 5.8 billion pounds, the company said on Tuesday.
Regions of the north of England were last hit by severe weather at Christmas, flooding places such as the city of York and prompting the government to deploy the army. Earlier in December, Cumbria had its worst flooding since 2009 when the main streets of some towns were turned into rivers.
The head of the Environment Agency, the government body responsible for flood defenses, fended off criticism that he'd been on vacation in the Caribbean over the holiday period. Philip Dilley told reporters in London Wednesday he'd been "in very close contact" with agency officials and that "everybody can't be everywhere at the same time."
Before it's here, it's on the Bloomberg Terminal.
LEARN MORE