Shkreli's Former Company KaloBios Files for Bankruptcy
by and
Biotech company aims to restructure, salvage leukemia drug

KaloBios saw `imminent threat' after Shkreli's arrest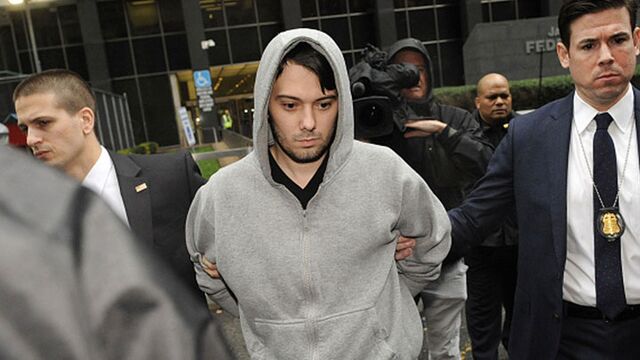 KaloBios Pharmaceuticals Inc., which Martin Shkreli rescued from liquidation last month, filed for bankruptcy after his arrest knocked the biotechnology company's brief revival off course.
KaloBios filed for Chapter 11 reorganization on Tuesday in U.S. Bankruptcy Court in Wilmington, Delaware. The South San Francisco, California-based company plans to use the bankruptcy to buy time to implement its restructuring plans, which include concentrating on an experimental leukemia drug, according to court papers. Its focus is using engineered antibodies to fight cancer.
Shkreli, the company's former chief executive officer who took the helm just over a month ago and with a group of investors pledged to save it, was arrested Dec. 17. The charges of securities fraud relate to his tenure at another drug company, Retrophin Inc. The former hedge-fund manager has drawn criticism for a steep price hike on a treatment for a rare parasitic disease while at the helm of Turing Pharmaceuticals AG, as well as his purchase of the sole copy of a Wu-Tang Clan album.
Shkreli was fired by KaloBios after his arrest and has denied wrongdoing.
Disruptions
KaloBios cited Shkreli's arrest, an announcement last week that Nasdaq was planning to remove its stock, and the departures of its accounting firm, chief financial officer and two board members as challenges that have disrupted its ability to restructure out of court.
Shkreli, 32, is accused of repeatedly losing money for investors and lying to them about it, as well as illegally taking assets from Retrophin to pay off some of those investors.
"These events have been significantly disruptive to KaloBios' efforts to address its liquidity concerns and implement an out-of-court restructuring," the company said in court papers.
The petition lists $8.37 million of assets and $1.94 million of debt. KaloBios's largest unsecured creditors include the University of Miami and Ernst & Young LLP.
Leukemia Drug
KaloBios's aim is to focus its limited resources on the development of the experimental leukemia drug lenzilumab, according to the filing. KaloBios said it paused enrollment in a clinical study of a second drug to treat solid tumors.
KaloBios has faced some setbacks in developing lenzilumab, also known as KB003. After Shkreli's arrest, University of California at Davis and Moffitt Cancer Center in Florida, two of the sites that were scheduled to participate in a clinical trial of the drug, said they were suspending their plans to join.
The company announced Nov. 13 that it would wind down operations. In court filings, the company said it eliminated 61 percent of its staff and repaid its only secured debt -- $6.6 million -- to lender MidCap Financial. It was planning to liquidate assets and phase out its remaining employees as well as halt clinical research on the two experimental cancer medicines.
Less than a week later, on Nov. 19, it announced new financing, led by Shkreli, who along with investors committed to an equity investment of at least $3 million and another $10 million, subject to shareholder approval. Shkreli and two partners acquired a 70 percent stake.
Eight Employees
KaloBios now has two directors after Shkreli, Tony Chase, Tom Fernandez and Marek Biestek left. The company had eight employees at the time of its filing, according to court papers.
KaloBios said in a statement Tuesday that it had appealed the delisting and would have a hearing on Feb. 25. Will Briganti, a Nasdaq spokesman, declined to comment beyond confirming the date of the appeal.
Shares have vacillated wildly on recent news. Shkreli took over KaloBios when shares of the company were trading at less than $1. After the announcement that he had taken a controlling stake and named himself chief executive officer, they surged to a closing high of $39.50 on Nov 23.
Stock Plunge
The stock plummeted 53 percent in early trading on Dec. 17 in the minutes after news of Shkreli's arrest broke and before it was halted by the exchange. It hasn't traded since then.
Matthew Harvey and Eric Schwartz, two lawyers at Morris Nichols Arsht & Tunnell LLP listed on the filing as KaloBios's representatives, didn't respond to phone calls and an e-mail seeking comment. 
Shkreli is no longer affiliated with Retrophin, and remains on the board at New York-based Turing, according to a statement from that company last week. Turing also said at the time that it's cutting an unspecified number of jobs and seeking a permanent chief executive officer as well as more board members.
The case is KaloBios Pharmaceuticals, 15-12628, U.S. Bankruptcy Court, District of Delaware (Delaware).
Before it's here, it's on the Bloomberg Terminal.
LEARN MORE