Easy Money Hard to Find in '15 With Markets Cooled by China, Fed
by and
S&P 500 joins global equities with first loss since 2011

Oil's rout leads commodities, resource currencies lower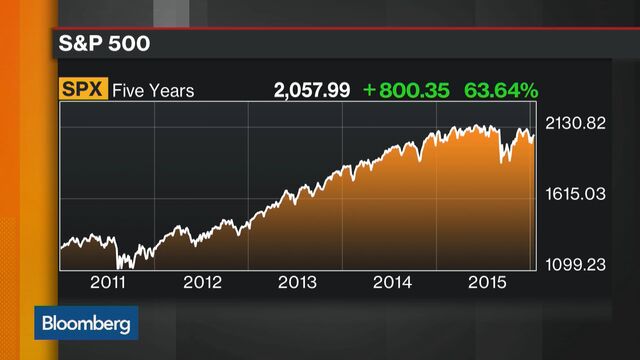 For investors, 2015 will be remembered as a year to forget.
Little went right and plenty went wrong, including losses in global stocks, commodities and currencies. The small gains in bonds were wiped out when inflation is considered. While pockets of strength were found in places such as the dollar, South African stocks, Ukrainian bonds and some soft agricultural commodities like sugar and cocoa, it just wasn't enough to focus attention away from the malaise that settled into markets.

"It was a year when the rather mainstream investments didn't work -- stocks, bonds, commodities -- and a lot of that obviously comes from the very, very low oil prices," said Richard Sichel, chief investment officer at Philadelphia Trust Co., which oversees $2 billion. "It will be a relief to turn the page. It has been a frustrating year, there were fairly nice gains in the middle of the year and you see it go away. We spent the year going up and down and ending sideways, but you always try to pick up your marbles and keep investing."
Global equities snapped a three-year rally as a slowdown in the Chinese economy fueled the biggest retreat in raw materials prices since 2008 just as the Federal Reserve ended its zero interest-rate policy. The Standard & Poor's 500 Index ended in negative territory and the Dow Jones Industrial Average had its worst year since 2008.
The Bloomberg Commodity Index sank 25 percent, the most since the financial crisis, as crude capped its first back-to-back slump since 1998. Emerging-market equities plunged 17 percent, while commodity currencies tumbled. Bonds gained for a second year, outperforming stocks globally, on haven demand. The yen had a record fourth annual loss.
Stocks
The S&P 500 fell 1 percent at 4 p.m. in New York, leaving it lower by 0.7 percent in 2015. The Dow Jones Industrial Average lost 2.2 percent this year, while the Nasdaq 100 Index outperformed, rising 8.4 percent. Markets are closed tomorrow for the New Year holiday.
"This is the most poetic way you could end the year," said Jeff Clark, an analyst at Stansberry & Associates in San Francisco. "The market has basically done nothing. We've had some attempts to rally and some attempts to drop, but it's been a pretty frustrating year for trading. The momentum is in the bearish camp right now."
The market's torpor is likely to be broken next week as investors will return from the holiday to a swath of data, including gauges on the manufacturing and services industries, the monthly jobs report and minutes from the Fed meeting that ended with the first rate increase since 2006.
The Stoxx Europe 600 fell 5.1 percent in December, trimming its rally for the year to 6.8 percent, the most since 2013. Germany's DAX Index climbed 9.6 percent in 2015, with strategists seeing more gains for 2016. Italy's FTSE MIB Index was among the best performers in western Europe, rallying 13 percent. The U.K.'s FTSE 100 Index fell 4.9 percent. Greece's ASE Index plunged 24 percent.
Commodities
Crude futures plunged 32 percent this year, a second annual loss that exceeds the magnitude of the slump during the Asian economic crisis from 1997 to 1998. There were few signs of an end to the supply glut that pushed prices below $40 a barrel.

Natural gas futures that staged the biggest year-end rally on record might continue to climb after the new year as a blast of frigid weather sweeps into the Northeast. Gas prices jumped 34 percent since settling at a 16-year low on Dec. 17 as weather forecasts showed chillier weather will hit the East next week after an unusually mild end to 2015 that bloated a supply glut.
Gold fell 10 percent for a third straight annual decline, the longest retreat in 15 years, as the surge in the dollar following the Fed's monetary-policy tightening compounded the broader collapse in commodity prices. Bullion futures also capped the sixth straight quarterly loss, the longest slump since 1984. Prices, which were little changed on Thursday, have plunged about 45 percent since reaching a record in 2011.
Industrial metals fell, capping the worst year since 2008, as production cuts and signs of improving demand in China came too late to counter falling consumption and excess supplies.
Aluminum, copper, zinc, tin, nickel and lead capped annual losses, with nickel dropping 42 percent, the worst performer on the London Metal Exchange LMEX Index. The gauge fell 24 percent this year.
Bonds
The Global Broad Market Index of bonds from Bank of America Merrill Lynch has returned 0.85 percent this year, down from a gain of 7.8 percent in 2014.
U.S. Treasuries were little changed with 10-year notes yielding 2.29 percent, 11 basis points more than at the end of 2014. The Treasury's final three auctions of coupon-bearing notes this year drew some of the lowest investor demand since the financial crisis with the Federal Reserve on course to raise interest rates several times next year, potentially lowering the value of the debt.
Germany's bond market are closed until Jan. 4, while U.K. market is scheduled to close early ahead of the New Year holiday. U.S. bonds futures close at 1 p.m., and cash an hour later.
Foreign Exchange
The Bloomberg Dollar Spot Index, which tracks the greenback against its 10 most-traded peers, climbed 8.9 percent in 2015, a third straight gain. The yen had a record fourth annual decline, while the euro slumped a second year, as stimulus in Japan and the euro area widened the gap between monetary policy in those regions and the U.S.
Commodity producers' currencies have led declines against the dollar in 2015 as tumbling prices for everything from oil to iron ore, copper and milk collided with expectations for higher U.S. interest rates.

Emerging Markets
The MSCI Emerging-Markets Index plunged 17 percent in 2015, the biggest annual loss since 2011. Emerging stocks are valued at 11 times estimated 12-months earnings, a 31 percent discount to the the MSCI World Index.
A measure of 20 developing-nation exchange rates depreciated 15 percent in 2015, the steepest slide since 1997, and analysts are forecasting further losses in 2016 due to China's slowdown and rising U.S. interest rates.
Before it's here, it's on the Bloomberg Terminal.
LEARN MORE