North Korea's Top Negotiator With South Dies in Traffic Accident
by
Kim Yang Gon Held Talks to Defuse Tensions With South Korea

Death May Add Uncertainty to North Korea's Policy on South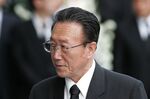 A senior North Korean official who helped craft an agreement in August to defuse military tensions with South Korea has been killed in a traffic accident.
The death on Tuesday of Kim Yang Gon, 73, is a "huge loss" and North Korean leader Kim Jong Un will lead a funeral committee for the late Workers' Party secretary, the official Korean Central News Agency said. It didn't elaborate on the nature of the accident.
The loss of the veteran policy maker on South Korea may leave a vacuum in the North Korean leadership over cross-border dealings. The countries have not held a meeting since talks ended earlier this month without an agreement on ways to restore exchanges.
"This raises worries that an extended suspension in inter-Korean dialogue may be inevitable due to his death," Cheong Seong Chang, a North Korea analyst at the Sejong Institute near Seoul, said by text message. "There's a possibility that this could lead to more frigid relations."
South Korean Unification Minister Hong Yong Pyo sent a message of condolence, spokesman Jeong Joon Hee said in a briefing in Seoul. South Korea will wait to see if the death affects cross-border ties, he said.
News of the death fell on the fourth anniversary of Kim Jong Un's rise to Supreme Commander of the Korean People's Army. Deadly accidents involving senior officials have raised speculation of power struggles in the past although North Korea watchers say officials tend to flaunt traffic regulations and the country has poor quality roads.
Kim Yang Gon was a member of North Korea's delegation in August to marathon talks held with South Korean President Park Geun Hye's top security adviser as a military standoff took tensions to their highest level in years. Those discussions produced a deal aimed at restarting efforts to improve ties.
As chief of the United Front Department of the Workers' Party, Kim was responsible for engagement with Seoul and met senior South Korean officials during a surprise visit last year for the closing ceremony of the Asian Games. He attended the funeral in Seoul in 2009 of former president Kim Dae Jung.
Kim Yang Gon sat next to Kim Jong Il when the late leader held talks with then-South Korean President Roh Moo Hyun in Pyongyang in 2007. There's been no such summit since Kim Jong Un came to power after the death of his father.
"The South has lost a reliable interlocutor and contact in Pyongyang," Michael Madden, editor of the North Korea Leadership Watch blog, said by e-mail. "Kim Jong Un has lost a capable and trusted elder adviser whom he could rely on."
Before it's here, it's on the Bloomberg Terminal.
LEARN MORE