Glencore's John Mack Says China Is Still Bullish for Commodities
by and
Investment rating, production cuts key for Glencore, Mack said

Banks will be pressured by firms like LendingClub, On Deck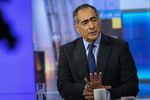 China's economic growth engine will drive raw materials demand in the long term, according to Glencore Plc Director John Mack, who said the commodities firm remains focused on trading.
Coal prices will keep falling and China isn't likely to switch to natural gas from coal as much as the U.S. did, Mack said in an interview on Bloomberg Television on Wednesday. The mining company has cut copper output and other companies need to do the same if prices are to recover, he said.
Commodities companies including Glencore have been hammered this year by the slump in raw materials as China's expansion slowed, prompting producers to scale back output, cut costs and reduce debt. While Moody's Investor Service cut the trader's rating to the lowest investment grade earlier this month, the agency said it will likely be able to maintain the level even if conditions in metals markets don't improve for a long time.
'Important Things'
"The most important things for Glencore is to keep our investment-grade rating and to find areas where we can cut production," said Mack, a former chief executive officer of Morgan Stanley. "We are not backing out of trading. We are as aggressive as we have ever been in trading."
Glencoreshares dropped 70 percent in London in 2015 as Chinese commodity demand weakened and prices from oil to metals tumbled, with copper losing 25 percent. While China's slowdown hurt raw-material prices this year, the long-term story is still bullish as consumption increases, Mack said.
U.S. banks will be challenged in the short term as they have to keep reducing compensation, headcount and expansion to boost profitability and reward shareholders, Mack said. Investors and regulators are focusing on how much bankers are paid and the government has also been scrutinizing directors at large banks about risk management and growth, he said.
'Dialed Back'
"Regulators have put a tremendous amount of pressure on taking leverage out of the system, and they've been very successful at it," Mack said. "As far as the big casino, let's go for the home runs, I think banks have really dialed that back, and it will stay dialed back."
He said the companies that will succeed in the long term are the ones "sitting on huge deposits" like his former firm, Morgan Stanley, especially as interest rates climb. Banks may also be pressured by new firms such as LendingClub Corp. and On Deck Capital Inc., which can often provide customers lower rates for loans. Mack is on the board of LendingClub.
"Technology is something the banks really need to focus on and worry about," Mack said.
Peter Grauer, the chairman of Bloomberg LP, is a senior independent non-executive director at Glencore
Before it's here, it's on the Bloomberg Terminal.
LEARN MORE