Failing Indonesian Officials Quit in Boost for Jokowi Governance
by
Transportation chief latest to quit after holiday gridlock

Departures over performance rare in Southeast Asian nation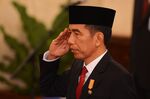 Two of Indonesia's top civil servants have resigned over their performance, suggesting President Joko Widodo's push for greater government accountability in Southeast Asia's largest economy is making headway.
Land transportation chief Djoko Sasono quit Saturday, citing a failure to anticipate monster traffic jams that ensnared millions as they left the capital Jakarta ahead of the Christmas holiday and prompted an onslaught of negative media coverage. His departure came weeks after the head of the tax office stepped down for falling short of promised revenue targets.
Widodo, who's better known as Jokowi, took office in October last year pledging to make public officials more accountable and shake up the civil service. His first year was characterized by policy U-turns, ministerial bickering and a dispute with police over how to fight graft. He fired five ministers in August in an effort to improve governance.
While this month's resignations are promising, it's too soon to say if they herald a new era of accountability, said Djayadi Hanan, a politics professor at Paramadina University in Jakarta.
"The resignations come from ministries which are undergoing internal reform," Hanan said. "When you look at it that way, we can have a hope that we are seeing the start of a new culture in Indonesian public officials."
Speaker Quits
The leader of the lower house of parliament was another high-profile casualty of the push for better governance. Setya Novanto stepped down as speaker on Dec. 16 amid an attorney general's investigation and a legislative ethics probe into allegations he sought shares in Freeport-McMoRan Inc.'s local unit in return for a license extension. Novanto, who has denied wrongdoing, kept his seat in parliament.
The transport and tax ministries have both touted their commitment to efficiency, merit-based promotions and other bureaucratic overhauls. Indonesia was ranked 107th of 175 states and territories in Transparency International's 2014 Corruption Perceptions Index.
Sasono announced his resignation in a hastily arranged evening briefing Saturday, after some drivers took 16 hours to make the 160 kilometer (99 mile) trip from Jakarta to the West Java city of Bandung. Sigit Priadi Pramudito, who became tax chief nine months ago, left after it became clear this year's revenue would fall about 15 percent shy of budgeted forecasts.
'Taking Responsibility'
"They were like knights, taking responsibility," Vice President Jusuf Kalla said. "We have to respect this. It is a good example, though of course it depends on the individual cases."
Jokowi, who rose from humble origins compared with many Indonesian political elites, earned a reputation as a straight-talking, can-do leader during stints as mayor of the small town of Solo and later as governor of Jakarta. He says he subjects ministers to regular performance evaluations and has called for a "revolution" in the way bureaucrats approach their jobs.
While he hasn't commented publicly on the bureaucrats' resignations, he told a nationwide meeting of village chiefs in central Java on Sunday that he would fire unproductive officials, such as those who held up infrastructure projects.
"I just call the ministers immediately and give them a month and a half," he said in remarks reported by Koran Tempo newspaper. "I check if there is still a problem. Then, I note it in their performance review. If it is red, it's easy. I reshuffle them."
Before it's here, it's on the Bloomberg Terminal.
LEARN MORE