EasyJet's McCall Among Women Heading U.K. New Year's Honors List
by
Increase in women awarded top honors from six months ago

DMO's Stheeman, former Prudential chairman McGrath knighted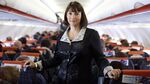 EasyJet Plc Chief Executive Officer Carolyn McCall and Net-a-Porter Ltd. founder Natalie Massenet both became dames in a list of U.K. New Year's honors that singled out women in business, as well as distinguishing Debt Management Office CEO Robert Stheeman.
Stheeman will get a knighthood, the male equivalent of a damehood, enabling him to put the title "Sir" in front of his name. There were similar awards for Alan Yarrow, who was mayor of the City of London financial district until last month, and for former Prudential Plc Chairman Harvey McGrath, who now heads Big Society Capital, a social-investment institution. David Miles, a former member of the Bank of England's Monetary Policy Committee, becomes a commander of the order of the British Empire, or CBE.

They were among 1,196 recipients of honors in today's biannual awards granted in the name of Queen Elizabeth II. As well as business people, they included charity workers nominated by the public, public servants, entertainment stars and sportsmen. The share of women recognized at the highest levels rose to 38 percent from 31 percent when the last awards were made in June.
"This is a real honor and I am delighted to receive it," McCall, 54, said in a statement. Before taking over at EasyJet in 2010, she was CEO of Guardian Media Group Plc.
Gold Award
Other businesswomen were also recognized, with Jacqueline Gold, CEO of retailers Ann Summers and Knickerbox, and Nicola Shaw, CEO of HS1 Ltd., which runs the rail link from London to the Channel Tunnel, receiving CBEs. Judith Hackitt, chair of the Health and Safety Executive, becomes a dame.
Prime Minister David Cameron also rewarded people who helped him secure his Conservative Party's first majority government since 1992 in May's election. Lynton Crosby, his campaign director, was made a knight, while Mark McInnes, the director of the Scottish Conservatives, and James Stewart, their treasurer, received CBEs.

Stheeman, 56, who has run the DMO at a time when British government borrowing reached unprecedented levels, said he was surprised and "quite touched" by his honor, praising the agency's entire staff for its success.
"We've had over the last eight years a very challenging and unique financing period in terms of not just the gilt market but sovereign debt in general, and to a certain extent we've benefited from it," he said in an interview. "I've been fortunate enough to be at the DMO during a critical time in recent British fiscal history."
Youngest, Oldest
A majority of the honors are awarded to volunteers, with 76 percent of recipients distinguished for work for their local community. They include Jonjo Heuerman, 13, this year's youngest recipient, who will get a British Empire Medal after raising more than 200,000 pounds ($295,000) for Cancer Research U.K. The oldest recipient is Dorothy Start, 99, for more than half a century of community work.
A number of awards were also given to individuals to recognize their work on fighting Ebola. Among them are Michael Jacobs, the clinical lead in infectious diseases at London's Royal Free Hospital, who gets a CBE.
In addition to the honors, three awards were personally bestowed by the queen for the advancement of the arts, learning, literature and science. Known as the Order of Merit, they were given to leading surgeon and former Health Minister Ara Darzi, Royal Academy of Engineering President Ann Dowling and inventor James Dyson.
The awards also included 26 political nominations. Ed Davey, who was Liberal Democrat energy secretary in the previous coalition government, and former Foreign Office minister and Conservative lawmaker Henry Bellingham, both gets knighthoods. Labour lawmaker and Chief Whip Rosie Winterton becomes a dame.
Champion jump jockey A.P. McCoy and choreographer Matthew Bourne both get knighthoods, and actresses Barbara Windsor and Sian Phillips become dames.
Before it's here, it's on the Bloomberg Terminal.
LEARN MORE