Bill Cosby Pleads Not Guilty to Sex Assault Charge, Posts Bail
by
Comedian charged in Pennsylvania on 12-year-old allegation

Information emerged after first report 2005, prosecutors said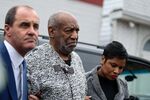 Once known as America's favorite dad, Bill Cosby was charged with sexually assaulting a Temple University associate, 37 years his junior, more than a decade ago at his home in Cheltenham, Pennsylvania. The 78-year-old comedian pleaded not guilty.
It's the first time Cosby has faced a criminal charge following years of complaints from dozens of women who said he drugged and sexually assaulted them.
Cosby's bail was set at $1 million during a hearing Wednesday in Elkins Park, Pennsylvania. He was required to post 10 percent of that amount. Another hearing is scheduled for Jan. 14.
The felony charge, announced earlier in the day by state prosecutors in Montgomery County, Pennsylvania, was brought after an investigation was reopened in July. It's based on new damning information from Cosby himself, according to the prosecutors. The entertainer allegedly drugged the woman before the assault.
Beginning in 1984 and continuing for eight years, Cosby won America's heart as the patriarch Cliff Huxtable, a physician and family man on the hit TV series "The Cosby Show."
The barrage of sexual-assault allegations prompted the cancellation of some of Cosby's one-man comedy shows, halted the development of a television project and led to his resignation from the board of trustees of Temple University.
Alleged Victim
The alleged victim, identified in a criminal complaint as Andrea Constand, reported the incident on Jan. 22, 2005, almost a year after she said it occurred. The initial investigation resulted in no criminal charges against Cosby. The probe was reopened after a federal judge in July unsealed court papers in a civil case Constand filed in March 2005 and settled in 2006. Prosecutors said the decision was based on new evidence and information from other alleged victims.
"A prosecutor's job is to follow the evidence wherever it leads and whenever it comes to light," First Assistant District Attorney Kevin R. Steele said in announcing the charges. "Upon examination of all of the evidence, today we are able to seek justice on behalf of Mr. Cosby's victim."
Constand's attorney Delores Troiani hailed the charge, saying in a statement Wednesday that she had "the utmost confidence" in prosecutors.
"In that this matter is now being pursued in the criminal justice system, we will not comment further," Troiani said.
Media Mob
Cosby arrived Wednesday afternoon at a small courthouse in Elkins Park, Pennsylvania, which was thronged by television cameras and reporters. Wearing his trademark sweater, Cosby walked past the media into court without answering questions. He was back out of the courthouse in about 10 minutes.
Brian McMonagle, Cosby's lawyer, didn't immediately respond to an e-mailed request for comment. Earlier this month, Cosby countersued seven of the women, accusing them in a filing in Massachusetts Federal Court of "malicious, opportunistic and false and defamatory accusations of sexual misconduct."
Gloria Allred, the Los Angeles-based attorney who represents 29 of Cosby's alleged victims -- not including Constand -- praised the Pennsylvania prosecutors' decision.
"I'm very happy this day has finally come," she said at a press conference. "So many women who allege that they are victims of Bill Cosby have cried out for justice for so long.
Allred said that for many of Cosby's alleged victims the statute of limitations to bring a civil case or for prosecutors to charge him has passed.
Under Pennsylvania law, prosecutors have 12 years to bring charges for felony sex crimes, which means they would have had to file the case before mid-January, the earliest date listed for the alleged incident, according to the criminal complaint.
A person who commits aggravated indecent assault under Pennsylvania law engages in vaginal penetration without a victim's consent, knows the victim is unaware or unconscious of the violation or has administered or provided drugs or other intoxicants for the means of preventing resistance, Steele said.
Friend and Mentor
Constand met Cosby through the basketball department at Temple University in Philadelphia where she was the director of operations for the women's team, according to the criminal complaint. She grew to consider him a mentor and a friend, accepting invitations to his home and other events. During their relationship, Cosby made two advances to her that were rejected before the assault, authorities said.
On the night in question, she arrived at Cosby's home feeling "drained," according to the complaint. Cosby told her he wanted her to relax and gave her three blue pills to make her "feel good." He also encouraged her to drink several sips of wine. Within minutes, Constand said she experienced blurred vision and difficulty speaking and her legs felt "like jelly." Despite her "paralyzed" state she was aware of Cosby fondling her, according to the complaint. She awoke the next morning disheveled and was escorted out by Cosby, who was dressed in a robe. He gave her a muffin and said "Alright," according to the complaint.
Prescription Quaaludes
When confronted by the alleged victim's mother the following year, Cosby allegedly said he couldn't remember the name of the pills he gave her. Under questioning in Constand's civil case, he testified that he acquired seven prescriptions for Quaaludes and that he had given the drugs to women with whom he wanted to have sex. Prosecutors said his evasive and conflicting identifications of the drug was a significant factor in the criminal case.
"Cosby's deliberate efforts to conceal the nature of the pills he supplied to his unsuspecting victim are inconsistent with innocent behavior and demonstrate his consciousness of guilt," according to the criminal complaint.
Significant too is Cosby's offer to pay for the victim's therapy, her grad school tuition and a trip to Florida in 2005, prosecutors said. Cosby admitted to fondling Constand in phone calls with her mother that year, they said. He described the incident to prosecutors during the initial investigation as a "consensual sexual encounter," according to the criminal complaint.
Compelling Insight
Investigators reviewing Constand's case said in court papers that two statements Cosby made provide "unusually compelling insight" regarding his sexual relationships with women, including his assault on Constand. While speaking to her mother, Cosby made sure that she understood there was no "penile penetration" involved, according to the complaint. He also responded "never, asleep or awake," when asked if he had sexual intercourse with Constand.
"Presumably, Cosby considers lack of intercourse as a means to diminish his culpability and lessen the gravity of his sexual offenses," prosecutors said in the complaint.
Allred represents one woman in a lawsuit who claims she was victimized by Cosby at the Playboy Mansion when she was 15 years old.
Cosby was questioned under oath in that case in October and Allred said she is seeking a second deposition because Cosby had refused to answer certain questions. Allred said she she was barred by court order from discussing the details of the depositions.
"The Cosby Show," which generated more than $1 billion in syndication fees after its initial broadcast run, helped Cosby build an entertainment empire that earned him more than $400 million. Many of his other TV shows, including "Fat Albert and the Cosby Kids," still air.
Before it's here, it's on the Bloomberg Terminal.
LEARN MORE