Berkowitz's Fairholme Increases Sears Stake, Signals Active Role
By
Miami-based firm buys 1.45 million shares during December

Fund company to contact management and board over prospects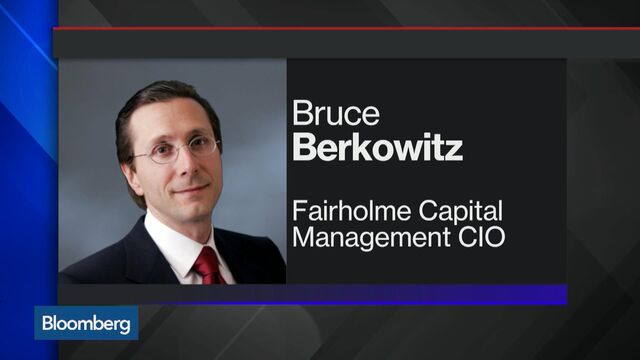 Bruce Berkowitz, the largest outside shareholder at Sears Holdings Corp., plans to make himself heard.
As chief investment officer of Miami-based Fairholme Capital Management, Berkowitz has been a staunch supporter of Edward Lampert, the hedge fund manager who runs Sears and controls about half of the retailer's shares. But Fairholme signaled a shift in its role at Sears in a Dec. 18 filing with the U.S. Securities and Exchange Commission.
Representatives of Fairholme "will be in contact" with Sears management, board and other significant shareholders regarding its views on the company's long-term prospects, according to the filing. Those communications "may include proposing or considering" actions to be taken at Sears.
Fairholme has been a Sears investor for more than a decade, having first reported acquiring shares of the Hoffman Estates, Illinois-based retailer during the third quarter of 2005. Based on the most recent data available, Sears ranks as Fairholme's largest stock holding, comprising about 20 percent of the firm's reported equity investments.
Quarterly Loss
Until last year, Fairholme reported its Sears stake as a passive investment taken in the ordinary course of business. In September 2014, when Fairholme began to report the stake on the SEC form that active investors are required to use, the money manager reserved the right to communicate with Sears management and the board, but didn't say it had any plans to do so. That hadn't changed until now.
Berkowitz began buying more Sears stock on Dec. 3, the same day that the department-store chain announced a $454 million third-quarter loss and its shares fell 6.9 percent. That day, Fairholme bought 418,500 shares at $18.90 each, according to filings.
Since then, the money-management firm has bought Sears stock on almost every day of December, including the purchase of 390,100 shares since Christmas Eve, according to a regulatory filing Tuesday. Fairholme funds and accounts have bought about 1.45 million shares in the retailer this month, though the total has been partly offset by sales at other accounts the Miami-based firm oversees.
As of Dec. 29, Fairholme and Berkowitz controlled 27.8 million shares, the equivalent of a 26 percent stake.
Fairholme didn't immediately respond to an e-mail requesting comment. Lampert didn't immediately return a telephone call seeking comment.