U.S. Gas Erases 25% December Loss on Outlook for Wintry Weather
by
Gas futures heading for first monthly gain since June

RSI surges, indicating gas at risk of being overbought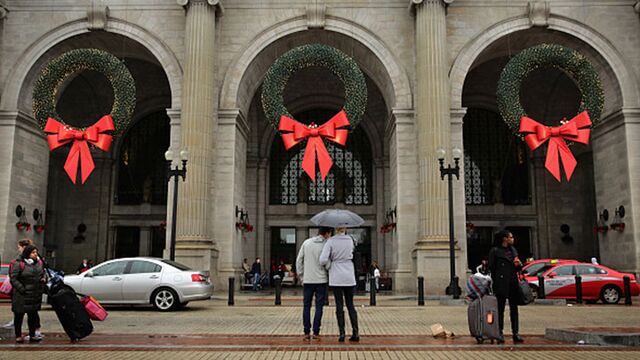 It's taken a bit of ice and snow, but U.S. natural gas traders finally are convinced that winter is here.
Gas futures headed for the first monthly gain since June, wiping out December losses of as much as 25 percent, after overnight computer models predicted colder weather would boost demand and may help ease a supply glut. Below-normal temperatures from the West Coast through Texas over the next 10 days will push across the Midwest Jan. 8 through Jan. 12, said MDA Weather Services. Unusually mild weather on the East Coast will retreat.

"The market is reacting to the shock that we are actually going to get this cold weather," said Phil Flynn, senior market analyst at Price Futures Group in Chicago. "We had a record short position a few weeks ago and we had priced in absolutely no weather demand. The weather forecasts are continuing to get colder."
Gas futures for January delivery climbed 14.4 cents, or 6.5 percent, to $2.372 per million British thermal units on the New York Mercantile Exchange, the highest settlement since Nov. 16. The futures are up 6.1 percent this month. The January contracts expired Tuesday.
Winter Weather
As much as 11.5 inches (29 centimeters) of snow piled up in parts of the upper Midwest since early Saturday, with 24 to 41 inches reported in Texas and New Mexico, and snow and sleet spread Tuesday across New York, New Jersey, New England and eastern Canada. The projected high of 38 degrees Fahrenheit (3.3 Celsius) in Chicago would be 6 degrees lower than the same day last week.
The change in forecasts showing cold weather hitting the Midwest and Northeast, the biggest consumers of heating fuel, was so unexpected that gas is now at risk of being overbought, given the sharp rally over the past week. The relative strength index, a technical price momentum indicator, surged to 67 at 2:36 p.m. after plunging to 19.4 on Dec. 17. A reading of 30 is considered by some traders to be a buy signal, or an oversold condition, while 70 may trigger selling.

"Isn't it amazing how quickly things can change," Flynn said. "It shows you how everybody's on one side of the equation."
Hedge funds have been net short on gas all year long, a record streak, U.S. Commodity Futures Trading Commission data show. They boosted bearish bets to an all-time high in early November and have maintained record levels for this time of the year.
Before it's here, it's on the Bloomberg Terminal.
LEARN MORE