Treasuries Fall as 5-Year Note Auction Demand Lowest Since 2009
by
U.S. sells securities at highest yield in more than a year

Bonds decline as oil gains boost commodities, equities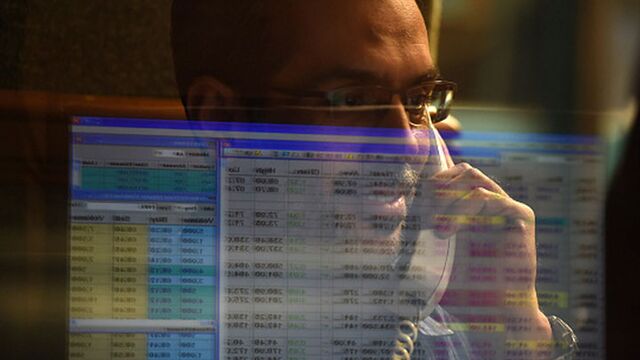 Treasury five-year notes fell, pushing yields to the highest since June, as a $35 billion auction of the securities drew the weakest demand in more than six years.
Bond prices declined after the five-year debt sold at the highest yield at an auction since September 2014, while a gauge of demand fell to the lowest since July 2009. A sale of two-year securities on Monday also drew the lowest level of bidding since 2009. Demand will face another test with the Treasury scheduled to sell $29 billion of seven-year securities Wednesday.
"It was a poor auction -- the bidding was not as aggressive," said Thomas Roth, senior Treasury trader in New York at Mitsubishi UFJ Securities USA Inc. "In general, you're seeing lower demand at the auctions as a trend."
Demand at Treasury auctions fell this year to the lowest since 2009 as Wall Street dealers and central banks pulled back. Investors bid for 2.8 times the almost $2 trillion of notes and bonds the U.S. has offered, down from 2.99 in 2014, data compiled by Bloomberg show. The drop-off in demand is potentially alarming for the Treasury as the Federal Reserve signals plans to raise interest rates four times next year, possibly further curbing investor appetite.
The five-year note yield rose seven basis points, or 0.07 percentage point, to 1.78 percent at 5 p.m. in New York, according to Bloomberg Bond Trader prices, the highest on a closing basis since June 10. The price of the 1.625 percent note due November 2020 fell 10/32, or $3.13 per $1,000 face amount, to 99 1/4.
Auction Demand
Yields rose as a rebound in oil prices led a rally among commodities and stoked gains for stocks. The yield on the benchmark 10-year note rose seven basis points to 2.31 percent.
The five-year note sale yielded 1.785 percent, the highest since September 2014. The bid-to-cover ratio, a gauge of demand, fell to 2.32, the lowest since July 2009.
There's "a lack of liquidity, short-staffed desks and not many players," said Kevin Giddis, the Memphis, Tennessee-based head of fixed income at Raymond James & Associates. "It looks like a thin, illiquid trade."
The U.S. will sell seven-year notes Wednesday in the last coupon auction of the year. The previous sale of the securities on Nov. 25 drew a yield of 2.01 percent, the highest since July. The bid-to-cover ratio of 2.51 matched the lowest since July.
Treasuries have returned 1.1 percent in 2015, compared with 6.2 percent last year, based on Bloomberg World Bond Indexes.
Before it's here, it's on the Bloomberg Terminal.
LEARN MORE