Russia to Charge 5 in Nemtsov Murder, Targets Alleged Organizer
by
One of five suspects is an ally of Chechen strongman Kadyrov

Investigation into Feb. murder to be completed next month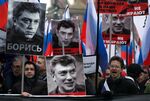 Russia is preparing to charge five suspects in the murder of opposition politician Boris Nemtsov after completing the investigation in January, 11 months after his assassination, and plans to split out the case against the alleged organizer.
The main suspect in Nemtsov's murder, Zaur Dadayev, was the deputy head of an elite police unit loyal to Chechen leader Ramzan Kadyrov, the former separatist that President Vladimir Putin picked in 2007 to fight extremists in the Russian North Caucasus region after two wars. Four other suspects, one of them killed during arrest, are from Chechnya as well.
The suspects will have time to review the charges after the probe is completed, according to a statement on the federal Investigative Committee's website.
Investigators will continue work on the case against Ruslan Mukhudinov, who has been on the international wanted list since November on suspicion of hiring Nemtsov's killer, according to the statement.
Nemtsov, 55, a critic of Vladimir Putin, was shot on Feb. 27 near the Kremlin in Moscow's center. In 2011 he published a report that focused on how Putin's inner circle is benefiting from the regime and at the time of his death was working on a report, largely based on public sources, on Russia's role in the separatist conflict in Ukraine.
Before it's here, it's on the Bloomberg Terminal.
LEARN MORE