Saudi Riyal Forwards Jump to 16-Year High Following Budget Plan
by and
Forwards rise after kingdom announces subsidy, spending cuts

Changes to subsidy regime "deeper" than expected: Coeli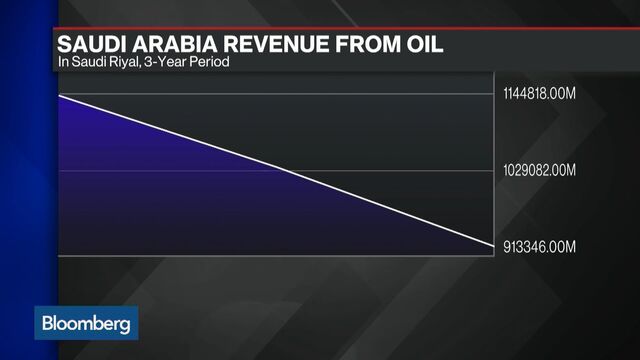 Contracts used to bet whether Saudi Arabia will allow its dollar-pegged currency to weaken jumped to the highest level in more than 16 years after the world's biggest oil exporter cut subsidies and spending for 2016.
Twelve-month forward contracts climbed 280 points to 755 as of 2:01 p.m. in Riyadh. That is the highest level since March 1999, reflecting growing speculation the country may allow its currency to weaken against the dollar for the first time in almost three decades. The advance may have been exaggerated as U.K. financial markets reopened following a bank holiday on Monday.
Saudi Arabia's budget has been under pressure as oil, the nation's main source of revenue, trades near the lowest level in 11 years and the kingdom conducts a money-draining war in Yemen. To help shore up its finances, Saudi Arabia sold bonds this year for the first time since 2007 and dipped into its foreign reserves, which sank for a 10th straight month through November. The nation will raise domestic fuel, power and water prices, according to the official Saudi Press Agency, after posting a $98 billion budget deficit for 2015.
"The scope of the subsidy reform was deeper than many thought the government was prepared to go at this juncture, so I guess it's natural to think that the chances of currency movement have increased," James Bannan, who runs the $140 million Frontier Markets Fund at Coeli Asset Management SA in Malmo, Sweden, said by e-mail. "The probability is obviously a little higher today than yesterday."
Saudi Arabia intends to cut spending in 2016 to 840 billion riyals ($224 billion) from 975 billion riyals this year.
Central bank Governor Fahad Al-Mubarak said in September the nation will stick with its dollar peg as long as oil underpins the economy, dismissing speculation that the currency system is under pressure.
Crude prices would have to remain "below $40 for a couple of years" for the peg to become unsustainable, according to Bannan. Brent, a pricing benchmark for more than half of the world's oil, dropped 36 percent in 2015 to $36.77 a barrel. Oil accounted for 73 percent of Saudi revenue this year, according to the finance ministry.
Before it's here, it's on the Bloomberg Terminal.
LEARN MORE