Ramadi Mostly Cleared of Islamic State Yet Mines Remain
by
Some houses in the city are `rigged to blow,' Warren says

Sunni militia will work with Iraqi police to restore order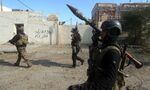 Iraqi government forces will be joined in Ramadi by Sunni militia to clear any remaining Islamic State terrorists and the "booby traps" they left behind, according to a top American military spokesman.
"We believe the majority of this enemy has been dispersed into smaller pockets," Army Colonel Steve Warren told reporters Tuesday on a video conference from Baghdad. "Many have moved kind of north and east" and "we don't think that the remaining enemy" has the "oomph to push the Iraqi security forces off of their positions."

The recapture Monday of Ramadi, which fell to Islamic State in May, is strategically important because the city lies in a province that links Iraq with Syria, Jordan and Saudi Arabia, and allows direct entry into Baghdad. It's a vindication for the Iraqi military and for Prime Minister Haider al-Abadi, who visited Ramadi Tuesday to celebrate the victory, according to Iraq's state TV.
'Force Multiplier'
The success also backed President Barack Obama's contention, rejected by some Republican critics, that airstrikes by the U.S. and allies can succeed against Islamic State when coupled with able local forces on the ground rather than making a major commitment of American troops.
"This is how modern warfare is," Warren said. "This is no different than the way any army should fight. It's using that air power as the force multiplier."
No U.S. ground personnel or AH-64 Apache attack helicopters were used in the assault on Ramadi, 110 kilometers (68 miles) west of Baghdad, Warren said, although it was preceded by months of coalition airstrikes that bombed at least 2,500 targets, including 70 booby-trapped truck bombs and 400 Islamic State weapons.

Iraqi regular army troops from the 10th Division, retrained by the U.S. to conduct conventional assaults, launched a complex bridging operation over a canal to enter the city, Warren said. "I don't know that we have seen a bridging operation in the Middle East conducted by Middle East armies since the 1970's," Warren said.
Several Islamic State counter-attacks Tuesday have been small and generally "take the form of a team, maybe with a heavy machine gun or maybe with" a rocket-propelled grenade, he said. Warren declined to estimate when he believed the city could be declared fully under Iraqi control.
The challenges include "entire houses that have been rigged to blow," Warren said. "This is going to take a while."
The United Nations High Commissioner for Refugees said "conditions are not yet in place" to encourage the thousands who have fled Ramadi to return. Areas are still littered with explosive devices, homes have been damaged, and electricity and water services have been disrupted, it added in a release.
"While families are certain to want to return as early as possible, it will be essential to ensure conditions are in place for that return to take place in safety, " it said.
Warren said it would be inaccurate to assume that the fight for Ramadi was a preview of the anticipated assault to retake Mosul, a much larger city.
"Mosul is different than Ramadi," Warren said. "It's a big, big, big city and it is going to take a lot of effort. It's going to take more training, it's going to take more equipment and it's going to take patience."
The fight for Ramadi was also significant in terms of Iraq's sectarian tensions because the country's military fought for the largely Sunni city without the help of formidable Shiite militias. Now, some of the 5,000 Sunni tribesmen trained by the U.S. will help clear and hold Ramadi, Warren said.
"They will form the bedrock of the holding force," Warren said. "They were not, frankly, a significant player in the seizure of Ramadi," he said. "They will be significant players in the stabilization and the holding."
Before it's here, it's on the Bloomberg Terminal.
LEARN MORE