PBOC's Pan to Replace Yi as Currency Regulator, Caixin Says
Bloomberg News
Pan Gongsheng to lead State Administration of Foreign Exchange

Yi Gang to remain in his current post at China's central bank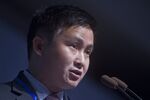 People's Bank of China Deputy Governor Pan Gongsheng will replace Yi Gang as head of the State Administration of Foreign Exchange, while also maintaining his post at the central bank, Caixin magazine reported.
Yi is also a deputy governor at the central bank and will retain his post at the PBOC, according to a report Tuesday by the Chinese business publication, which cited an internal announcement from the monetary authority.
SAFE is China's top foreign exchange regulator and operates under the State Council, or cabinet. A deputy central bank governor traditionally serves concurrently as the agency director. Pan replacing Yi doesn't signal a big shift on the yuan, also known as the renminbi or RMB, according to Larry Hu, head of China economics at Macquarie Securities Ltd. in Hong Kong.
"It doesn't mean a significant change on China's currency policy," Hu said Tuesday. "They've reiterated their stances many times that they will not allow the RMB to depreciate too sharply."
The PBOC and SAFE didn't respond to faxed requests for comment on the report. The central bank, led by Governor Zhou Xiaochuan since 2002, has six deputy governors. 
Yuan Convertibility
SAFE's function includes studying and proposing policies on the reform of the foreign exchange administration system, and the gradual advancement of yuan convertibility under the capital account, according to its website.
"Pan is a great choice for the job and its challenges," said Chen Zhiwu, a finance professor at Yale University in New Haven, Connecticut, and a former adviser to China's cabinet. "He's well educated and has many years of experience in the financial sector, including banking, monetary policy, and capital markets. He also has had lots of international exposure and the needed language skills."
Pan previously worked at the Agricultural Bank of China and before that held a number of positions at Industrial & Commercial Bank of China Ltd, the nation's largest lender, including general manager of financial planning and secretary of the board of directors, according to his office PBOC biography. He earned a Ph.D in economics at Renmin University of China.
'Reform-Minded'
"Pan's appointment is a very positive one," said Fred Hu, chairman of Beijing-based Primavera Capital Group and former China chairman of Goldman Sachs Group Inc. "He is highly intelligent, reform-minded, and he possesses a wealth of financial sector knowledge and practical experience, having previously served senior positions in ICBC and ABC, two of China's leading banks."
Pan's among a group of forward-looking reformers that includes Zhou and Guo Shuqing, currently governor of Shandong province, and may be able to assist the current central bank governor "by combining strong reform credentials and pragmatic skills to help push ahead China's ongoing financial reforms," Hu said.
Chinese authorities announced a surprise devaluation of the yuan in August and the PBOC said this month it will use a basket of currencies to value the currency instead of linking it directly to the U.S. dollar. The Bloomberg Dollar Spot Index, which tracks the greenback against its 10 major peers, has gained more than 8 percent this year as the Federal Reserve moved toward its first interest rates rise in almost a decade earlier this month.
Capital Flight
A Bloomberg measure of estimated capital outflows indicates more than half a trillion dollars has left the country in the past four months alone.
"At a time that capital controls imposed on banks have become an important policy tool, Pan's extensive experience in China's largest commercial bank will allow him to restrict the outflows of dollars even more effectively," said Victor Shih, a professor at the University of California at San Diego who studies China's politics and finance.
Yi, 57, also serves as the deputy office director of President Xi Jinping's Central Leading Group for Financial and Economic Affairs, the top Communist Party agency overseeing the economy. By leaving the post at SAFE, Yi could devote more time to the group, which is spearheading China's new supply-side reforms to accelerate growth.  
Zhou, 67, has led a series of reforms at the central bank over three administrations and won a major victory this year as the International Monetary Fund included the yuan in its reserve-currency basket, alongside the U.S. dollar, euro, pound and yen.
— With assistance by Keith Zhai, and Kevin Hamlin
Before it's here, it's on the Bloomberg Terminal.
LEARN MORE