Erdogan Attacks Kurdish Leader as Turkey Keeps Fighting Rebels
by and
Erdogan accuses pro-Kurdish party head Demirtas of `treason'

Demirtas endorsed call for Kurdish security, police forces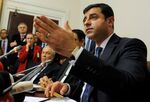 Turkish President Recep Tayyip Erdogan accused the leader of the country's pro-Kurdish party of being a traitor and vowed to crush its separatist aims.
Erdogan's unprecedentedly harsh attack on HDP co-chairman Selahattin Demirtas didn't bode well for any hopes of resuming peace talks with autonomy-seeking Kurdish rebels. Confrontations between the rebels and the government have intensified since HDP representatives won parliamentary seats for the first time in June elections.
Erdogan said Demirtas's demand over the weekend that Turkey declare autonomous regions was "treason" and warned that the Kurdish leader may face legal consequences.
"Where do you get the right to talk about establishing a state in east and southeast regions within Turkey's unitary structure? Such a thing won't be allowed by the national will or the security forces," Erdogan said Tuesday in Istanbul. "These operations will continue until terrorism is completely eradicated in our country."
Investigation Opened
Prosecutors in Diyarbakir and Ankara have opened an investigation into six people including Demirtas, state-run Anadolu news agency reported late Monday. The Ministry of Justice is preparing to ask parliament to lift his parliamentary immunity and that of two other lawmakers, it said.
The Turkish government has taken an increasingly hawkish stance against rebels since the June vote, in which the ruling AK party briefly lost its parliamentary majority because of the HDP's strong showing. A three-year lull in fighting between government forces and Kurdish rebel group PKK broke down following the election, and Turkish jets have since struck militants across the border with Iraq.
Clashes intensified last month, with thousands of troops backed by armored vehicles and helicopters fighting PKK members in southeast cities. Erdogan said Tuesday that the number of rebels killed inside and outside Turkey exceeded 3,000. He didn't give a time frame for the toll.
While AKP regained majority rule in a repeat election last month, Kurdish rebels have tried to create de facto autonomous areas in southeast cities, leading to urban warfare with government troops. Kurdish political and civil groups met over the weekend in Diyarbakir, where Demirtas called for an end to the fighting and urged a government declaration of Kurdish self-rule, including the establishment of autonomous security and police forces.
The government and Erdogan have repeatedly accused HDP of maintaining ties with the PKK, saying the party should distance itself from the rebel group. HDP denies that it's the political arm of a terrorist organization, while refusing to label the PKK as such.
PKK, considered a terrorist group by Turkey, the U.S. and EU, has been fighting for Kurdish self-rule in Turkey's southeast and eastern regions since 1984. Their separatist campaign and the Turkish government's response have claimed the lives of an estimated 40,000 people.
Before it's here, it's on the Bloomberg Terminal.
LEARN MORE