Hirsch to Close Hedge Fund Seneca After Almost 20 Years
by
Sohn Conference co-founder's fund is down 6 percent in 2015

Event-driven hedge funds are having worst year since 2011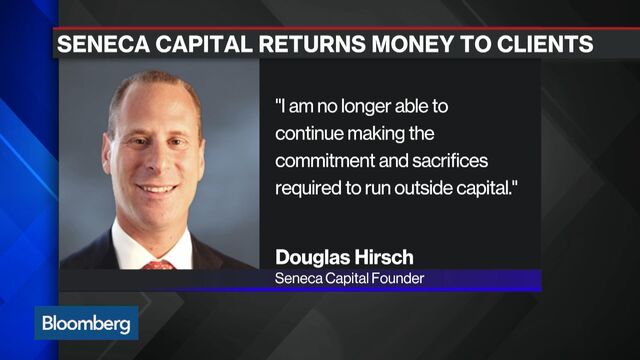 Doug Hirsch, one of the founders of the Sohn Investment Conference, is returning money to clients from his hedge fund after almost 20 years.
Seneca Capital Investments, which managed about $500 million, is returning most capital by today, according to a client letter obtained by Bloomberg. Seneca, which made wagers on corporate events such as mergers, spinoffs and restructurings, a strategy called event-driven, said it lost 6 percent this year in its domestic fund.
"I am no longer able to continue making the commitment and sacrifices required to run outside capital," Hirsch said in the Dec. 21 letter. "Despite negligible redemption requests and increasing market opportunities that are the result of a challenging year in event-driven investing, I cannot in good faith start next year with the dedication required to manage your capital."
Seneca is returning money amid the worst year since 2011 for event-driven funds, which on average declined 2.3 percent through November. The closing adds to a roster of hedge funds, both big and small, that have shuttered in 2015 as the industry struggles to generate profits. LionEye Capital Management, another event-driven fund, is closing after losses, while BlueCrest Capital Management, Fortress Investment Group LLC and BlackRock Inc. are liquidating some of their funds.
Liquidations Rise
According to data from Hedge Fund Research Inc., 674 hedge funds liquidated in the first nine months of the year, compared with 661 in the same period during 2014.
Hirsch, who founded his New York-based firm in 1996, said he will continue investing his own money through Seneca and intends to make a "significant" allocation to a fund that his partner, Jon Schwartz, is planning to start.
Mike Anastasio, Seneca's chief financial officer, declined to comment on the changes.
The Sohn Investment Conference is one of the hedge fund industry's biggest events and raises money for pediatric cancer research and care. Hirsch helped start a foundation 20 years ago honoring the memory of his friend, Wall Street professional Ira Sohn, who had died from cancer at the age of 29. The foundation has raised more than $60 million.
Before it's here, it's on the Bloomberg Terminal.
LEARN MORE